American Way, the American Airlines inflight magazine launched in 1966, is leaving Dallas. The monthly publication, along with its sister publications — the premier class Celebrated Living and the Spanish/Portuguese language Nexos — will relocate to Miami.
This is the first time in its 50-year history that the magazine will be
produced outside of Texas. The magazine was published in-house by American Airlines until January 2015, when the publication was outsourced to Ink, a travel-oriented content publisher headquartered in London. Ink relocated the three magazines from their long-held location in Fort Worth to Dallas.
All eight Dallas-based editors were offered the chance to move to Miami, though the company is currently undergoing HR reviews and would not disclose how many staff members are opting to move. Sales teams for the three publications, as well as a Nexos editor and a designer, are already based in Miami.
American Way will continue to publish on the monthly schedule it's had since 2013, when American Airlines cut frequency from a biweekly schedule amid financial troubles. Celebrated Living, now quarterly, will increase to bimonthly starting with the November/December 2016 issue.
Ink joint CEO Michael Keating tells Folio: that the move comes down to access and staff recruitment. Running sales out of Miami gives the company greater access to Latin American advertisers for Nexos, as well as a larger bi-lingual labor pool.
"Miami offers great recruitment possibilities in terms of it being a very attractive city to live in and that we need to have many Spanish speakers on the team," Keating tells Folio:. "Miami has a buoyant media community which aids the recruitment process both from a sales perspective and from editorial and design."
Currently, Ink is hiring to expand its Miami sales team, and depending on the outcome of this week's negotiations, may need editorial staff as well.
"We're actually expanding and it just makes more sense to have everyone under one roof," Keating tells Folio:. "It's not personal, and it's actually a positive story about expansion and ultimately producing a better product."
Nonetheless, the news has hit hard in the Dallas publishing community. Tuesday, D Magazine editor Tim Rogers reflected in a blog post about his time spent at American Way.
"The magazine business is a small world in North Texas," Rogers wrote. "I've pointed out before how we've all done our tours at the few titles in town. A big part of our tiny ecosystem was destroyed last week. It will be missed."
Rogers described a magazine that "was thicker than a phone book…[and] had money to send the best writers all over the world to seek out adventure and report back."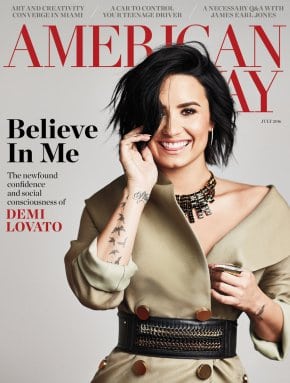 American Way has long been applauded for its quality. Considered the longest publishing magazine in airline travel, in 1991 The Washington Post called it "the readable exception in its field…buying talent, matching it with good ideas and acting for all the world like a real magazine and not a brochure for laptop computers and car-rental deals."
In 1997, USA Today quoted then-editor in chief John Ostdick, who called American Way "a profit center" for AMR Corporation, then-parent company of American Airlines. At that point American Way published 301,500 copies per issue, or 603,000 issues per month.
When Ink took over with the January 2015 issue, it was lauded as a relaunch. Today, Ink is expanding the digital presence of the three American Airlines brands.
"Don't think of digital magazines — think of content passengers will consume, such as video content," Keating tells Folio:. "The key thing is creating engaging content and pushing it to the consumers at the right point in the journey on the channel that they want to consume it on."
Keating credits their success in part to this focus on digital, and in part due to a boom in airline travel. While Ink didn't provide explicit circulation numbers, a representative from their team said that 16 million passengers a month fly on American Airlines, and that Ink has increased American Way's print run by 40 percent since taking over.
"I definitely feel that out of a lot of the print verticals, we buck the trend. Where you see, for instance, newspapers in decline because of low readership or trickier distribution, we buck the trend because airline travel is increasing and we have a captive audience," Keating tells Folio:.
The 22-year-old publishing company works with 25 clients, 23 of which are airlines. Projects range from print magazines and digital content, to tailored video production and digital sales. Later this month, Ink will announce a new national print magazine.
Following the Dallas closure, Ink will have six offices — NYC, Miami, Atlanta, São Paulo, Singapore and London.