The American Prospect Seeks $500,000 to Avoid Closure

Staff warned that June 6 may be their last day of employment.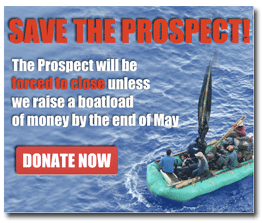 The American Prospect is looking to raise half a million dollars this month, and gain $700,000 worth of pledged support for the new fiscal year starting in July, in order to avoid suspending publication, cutting back frequency or complete closure.
A month ago, the liberal non-profit title projected a deficit of $700,000 for the fiscal year ending June 30 but managed to raise $200,000 in the past three weeks. Staff were informed last week that June 6 may be their final day of employment and the July/August issue may be the magazine's last, according to a note on its website.  
Contributing to the deficiency is the increased budget The American Prospect and its sister organization, Demos—a nonpartisan public-policy think tank—entered this current fiscal year with. The added dollars were used to expand reporting, revamp the Prospect.org website and build the brand's reach through social media and other digital channels. 
"Though the Prospect has never had an 'angel' backer or a funding board to backstop financial shortfalls, we took that risk because the times were demanding it, because the staff of the Prospect needed the tools to really make it shine, and because we believed that we could find new support to pay for those improvements," reads the note, signed by president Miles Rapoport, editor in chief Kit Rachlis, board chair Amelia Warren Tyagi, co-editor Robert Kuttner, and publisher Jay Harris. 
The magazine—founded in 1990—says it is set to launch a tablet edition but does not appear ready to give up on its print product. Currently, it publishes 10 issues per year and touts a combined print and digital paid circulation of almost 45,000, with a Web audience of nearly 400,000 unique visitors per month. 
The Prospect staff did not immediately return requests for comment.
Meet the Author
---