American Media, PixelMags Partner on New Newsstand

New Readr platform to offer "all-you-can-eat" sub model.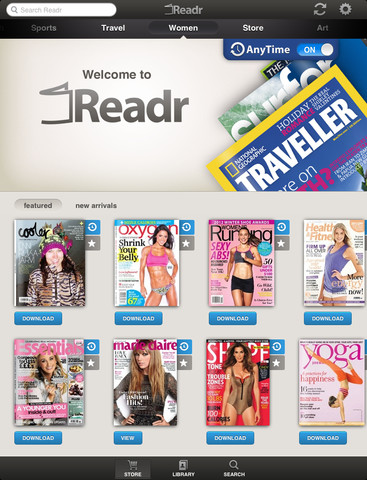 American Media is partnering with digital distributor PixelMags on a new "all-you-can-eat" subscription platform, Readr.
The publisher's four flagship titles (Shape, Men's Fitness, Star and OK) will be made available on the tablet app.
American Media, who does not use PixelMags for its digital edition conversions, joins Active Interest Media and Source Interlink who have each agreed to make their content available on Readr in the last several weeks. All told, the platform has about 130 participating publishers so far.
While traditional monthly or annual subscriptions are also available, Readr offers an all-access option akin to Netflix, says American Media manager of tablet production Chris Tarrow.
Similar to the more exclusive Next Issue Media catalog, users can pay a fee to access a full catalog of magazines instead of specifying their content on a title-by-title basis.
"We don't really know, as an industry, what is going to rise to the top in terms of the way that people are going to consume content on these devices," he says. "Maybe an all-you-can-eat subscription model is going to turn out to be something consumers think is the best way for them to get what they want."
As such, the revenue model also differs for publishers.
Single-issue and standard subscriptions will be handled as most would expect-proceeds going to American Media with PixelMags taking an undisclosed cut. In the "all-you-can-eat" model, revenues will be divided amongst the various publishers based on total number of reads and time spent with each article, according to Tarrow.
"It's a royalty model," he says.
Exactly what information the publishers themselves will have access to is still being worked out, but Tarrow expects a comprehensive publisher dashboard.
To stay updated on the latest FOLIO: news, become a Facebook fan and follow us on Twitter!
Meet the Author
---