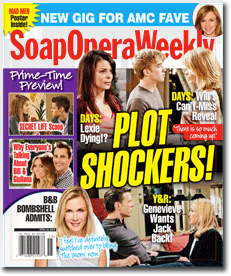 American Media Inc.'s Soap Opera Weekly is closing. Initially reported by Adweek, the soap opera rag is shuttering due to a "decline in readership in the soap opera market," according to an AMI spokesperson. Current Soap Opera Weekly subscriptions will be fulfilled by sister publication Soap Opera Digest until they expire.
Like so many other markets, soap operas have been suffering. Now down to only four soaps appearing on network television, at their peak, there were 19 soaps on air.
AMI says, "A few employees were impacted and are being used as freelancers at AMI." Exact numbers of affected employees were not offered.
The Audit Bureau of Circulation's 2011 second half numbers paint a grim picture of the closing title. Paid subscriptions dropped 36 percent from last half 2010, falling from 80,266 to 51,185. While sister publication Soap Opera Digest fared a bit better in the last six months of 2011, subs were still down 28 percent at 217,517 paid subscriptions. Last half 2010 saw 302,948 subs for the Digest.