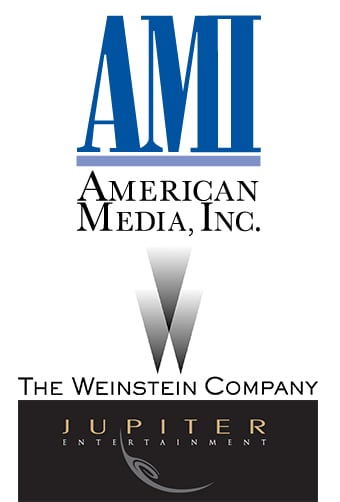 American Media, Inc. has announced it's joining forces with The Weinstein Company and Jupiter Entertainment for the development, creation, production and distribution of original television, film and digital initiatives. The projects will be based on AMI's portfolio of brands.
With the enormous opportunity presented by creating original filmed programming today, AMI follows other companies down this road. Most notable of upcoming projects in this vein is an NBC drama in development which focuses on the lives of employees at Hearst'sCosmopolitan.
The newly created group aims to focus initially on unscripted programming, with a forthcoming reality project set to be announced soon.
Jupiter, founded in 1996 by Stephen Land and part-owned by European pay television operator Sky, produces non-scripted shows including Animal Planet's "Wild West Alaska" and Investigation Discovery's "Homicide Hunter."
AMI chairman, president and CEO David J. Pecker said in a statement, "Partnering with the incredible teams at The Weinstein Company and Jupiter Entertainment underscores the trust and influence of our investigative reporting on Hollywood, celebrity, true crime and America's unsolved mysteries. We are delighted to bring decades of AMI storytelling to life with innovative, fresh new programming."
The joint venture was conceived by Patrick Reardon, EVP of TWC's television department, Dylan Howard, AMI's VP and chief content officer, and Land, chief executive of Jupiter Entertainment. The three will also head the venture.
Other companies have been beefing up their original programming lately. Condé Nast announced earlier this year that between 2015 and 2016, the company plans on producing over 2,500 new videos including two original virtual reality series for The Scene through a partnership with Jaunt Studios.
Also, in September, Mike Beck and Ian Orefice were promoted within Time Inc. to senior executive producers to oversee the expanding video operation at the company.
AMI will seek to utilize its network of print and digital readers to reach as wide an audience as possible.
"The chance to create new consumer experiences together with some of the world's most admired brands is a tremendous opportunity. We're very proud to embark on this exciting venture with our new partners," said Land.