American Cinematographer

Eddie Winner: Best Single Article, B-to-B, Media/Entertainment/Publishing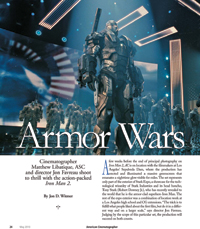 American Cinematographer serves filmmakers by exploring the artistic thought processes of the film industry's most innovative and talented directors of photography, and explaining the technical means by which they realize their creative visions, whether on film, video, or with computers.
Jon Witmer, associate editor, penned the winning feature "Armor Wars" in the May 2010 issue for a behind-the-scenes look at how the action blockbuster "Iron Man 2" was created.
A self-proclaimed nerd and comic book fan, Witmer pitched and wrote an article about the first Iron Man movie for American Cinematographer and was excited to pick up where he left off with Iron Man 2's cinematographer Matthew Libatique.
Witmer said he knew the film was supposed to bigger and bolder than the first one and was hoping he could capture some of that bigger and bolder essence while distilling their work behind the scenes."
"I knew I needed to capture the esoteric lighting information for our base readership but the goal is also to always keep it interesting in case someone else wants to pick it up after seeing Iron Man on the cover.
"As a fan of the source material, I charged myself with trying to get across the roots of the character and also have the plot elements within the article, so it can sort of flow as the movie flows without just being a long [story] of one technical nugget after another. I like for the technical bits to seize in the article as you go through in a natural flow that tries to follow the flow to the movie."
Witmer says he also enjoyed shining the spotlight on the often-neglected second unit cinematographer, Jonathan Taylor, in a sidebar.
"We were very fortunate to get shots [from Paramount] that illustrated key sets and sequences that I illustrated in this story," says Witmer. "Especially when the text can get as technical as our stuff does, having a photo to put next to a paragraph in the magazine benefits the reader's experience."
Meet the Author
---