American Banker Celebrates 175th Anniversary, Preps for Relaunch

Commemorates on the Web, in print.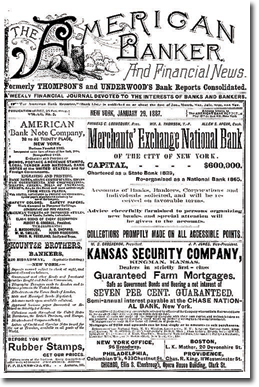 American Banker, the trade publication for bank executives published by Source Media, is celebrating its 175th anniversary. To commemorate the occasion, American Banker is reposting archived articles online, as well as releasing a special print issue in October featuring the best banking writing, chosen by industry insiders, to subscribers.
The publication is also prepping for a relaunch, which is set to debut in July.
AB, which began in 1836, is a printed daily publication as well as a digital property. On Friday, subscribers are emailed a PDF version. For a yearly subscription that grants both digital and print access, readers are charged $1195.
Print circ for American Banker includes 9,604 subscribers. According to Google Analytics, AB's website receives over 560,000 hits monthly.
U.S. Banker will also be relaunched as American Banker Magazine in July, which will be published alongside the daily American Banker, Americanbanker.com and Bank Technology News.
Marc Hochstein, executive editor of AB, is largely leading the effort with the anniversary edition. Hochstein identifies two major facts on the commemoration: one seen online, and one in print. A microsite was created on Americanbanker.com that links to a new archived story, which is updated daily.
Expected to include about 80-100 stories in the upcoming months on this microsite, stories being pulled from AB's archives range from the 19th century through present day.
A print issue, which will be sent to subscribers in October, will be a magazine anthology. Hochstein says CEOs, bankers and regulators were surveyed on the banking writing that most influenced their careers; the top writing, which ranges from books to mag articles, as well as vintage covers, will be included in the magazine.
Neil Weinberg, editor-in-chief of AB, says the redesign will largely focus on the website offerings. In order to engage new readers, there will be more content offered outside the paywall. Weinberg says this strategy aims to, "…be of interest to consumers, to business people not directly involved in the banking business and drawing the concentric rings a little closer to involve everyone in the financial industry, as well as the people in the banking industry."
In order to further engage readers, American Banker will offer more "provocative" opinion and technology-focused pieces, as well as the ability to comment directly on stories; previously, only a feedback button that sent reader views to the editorial staff was available.
Other aspects of the relaunch include integrated multi-media such as slideshows and video. AB's staff of 30, which includes reporters, editors and copy editors, is also being realigned to better serve the greater Web push.
Hochstein says of the commemoration and the relaunch of American Banker, "While we're going digital and 'Web-first', we're always going to look at history and context."
Meet the Author
---