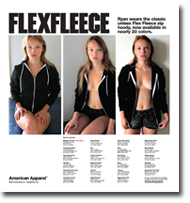 I'm surprised it took this long.
American Apparel, the mega clothing retailer known as much for its risqué advertisements as it is for its cotton t-shirts and underwear, has had an ad campaign banned by the Advertising Standards Authority, a U.K. advertising regulator.
The campaign, which appeared on the back cover of the U.K. edition of irreverent New York-based magazine Vice, featured a series of six photos of a "young looking girl" wearing the retailer's "Flex Fleece" zip-up hoody. In the photos, the girl was seen "exposing progressively more skin in each photo in the series," suggesting that "she was stripping off for an amateur-style photo shoot," the ASA said.
In its ruling, the ASA banned the ad claiming it "could be seen to sexualise a model who appeared to be a child, under the age of 16 years" and concluded that it was "inappropriate and could cause serious offence to some readers." In a statement, American Apparel said it agreed to stop using the ad, but also noted that the ASA's assessment was in response to "a single citizen complaint."
While I can't say I'm shocked that American Apparel's racy ads caught the ire of an advertising watchdog (and previously of film director Woody Allen), I find this story tough to swallow for two reasons. One: That U.K.'s big ad regulator would expend enough resources to ban an ad campaign based on just one complaint. And, two: Out of all of American Apparel's advertising partners—online and in print—that Vice magazine was the platform for this controversy.
American Apparel's half naked models shouldn't be anything new for Vice readers. The retailer has been advertising in the magazine since its first issue launched in 2003.