AMC 2008: 'It's a Slugfest Out There'

Notes from day one of the American Magazine Conference.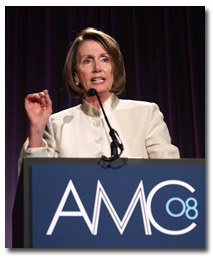 SAN FRANCISCO—The American Magazine Conference is a study of an industry in transition. I suppose not surprisingly, this year's conference is very much focused on e-media. Of the sessions that focus on the magazine business, seven are e-media related while only six are specifically print oriented. The sessions featuring business and political celebrities have also been valuable, if purposefully light. (House Speaker Nancy Pelosi, pictured, didn't illuminate much on the financial rescue of Wall Street—I doubt California Governor Arnold Schwarzenegger, coming Tuesday, will either.)
First full-day highlights included a session on reshaping the model for magazines, where IDG's Bob Carrigan demonstrated how far out in front of the rest of the industry his company really is. Where others offered generalities, Bob was talking about what IDG has already done.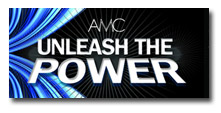 One of the keynotes Monday was Tom Rogers, former CEO of Primedia, the cobbled-together giant of the '90s that was broken up and sold over the last four years. Rogers is now CEO of TiVo. I remember when Rogers took over Primedia. I interviewed him his first day on the job, and he somewhat anxiously asked me what the big magazine companies like Time Inc., Hearst, and Condé Nast thought of Primedia. Now, nearly a decade later, he's preaching to them.
Another highlight was a lunch presentation with Sheryl Sandberg, the COO of Facebook. BusinessWeek editor Stepher Adler, who interviewed her, set up the conversation this way: "WTF?"
This is the first AMC in a while that's been held in a city, not a resort, signaling, I suppose, a businesslike attitude on the part of the Magazine Publishers of America, which recently needed to lay off some staff.
As Carrigan put it Monday: "Given the environment we're in, there will be a migration towards performance-oriented media." He wasn't talking about magazines.
And Carrigan's fellow panelist, Ed Kelly, CEO of Amex Publishing, was even more succinct. Asked his priorities for the next six to 12 months, he said: "For us, it's hunker down. It's a slugfest out there. Bring it on."
[photo: Doug Goodman]
Meet the Author
---