Amazon's Kindle: Magazine Killer?

What it means for ink and paper.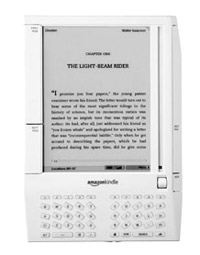 First off, I have not seen the new Amazon Kindle in person. (Note to self: send nasty note to Discover tech editor after finishing this blog entry.) From the pictures, though, the thing looks like a fantastically expensive Speak & Spell.
The reviews from tech geeks, however, have been generally positive, and the first run sold out on Amazon in five days.
So what does this mean for ink and paper purveyors? The classic print magazine argument goes something like this:
Magazines provide the best venue for long-form journalism. Reading the magazine version of The New Yorker on the train tonight is going to be a lot more pleasurable than reading a bunch of articles printed out on copy paper.
Ink on paper also works better for beautiful photography. The collective weight of the fall fashion magazines shows that advertisers clearly agree.
Finally, magazines are more portable than even the lightest laptop. Anyone who has used a laptop on their actual lap can attest that it quickly gets uncomfortable.
The Kindle points out the shakiness of the first and third legs of the proverbial stool. The Kindle is lightweight, easy on the eyes and presumably doesn't burn your lap. The wireless connection provides access to
scores of books or magazines, anywhere, at any time.
Sure it's $400, but you have to believe that a $99 version with color photos will be on Amazon by Christmas 2009. With the way ink and paper prices have been going, that might not be a bad thing.
Meet the Author
---