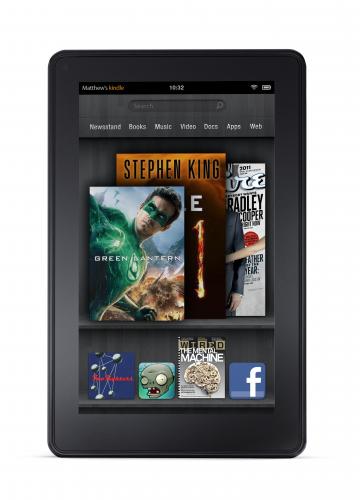 The long awaited device that has been rumored to shake up Apple's dominance of the tablet market is here. Amazon.com, Inc. announced early Wednesday that its 7-inch tablet product, the Kindle Fire (pictured), is finally hitting the market.
Several of the large magazine publishers, including Hearst, Meredith and Conde Nast, are reported to have already signed on to sell their titles and products on the device, which is to be priced at $199-about $300 less than Apple's cheapest iPad.
The Kindle Fire will run on Google's Android software and while the tablet does have wireless Internet access, there is no 3G available, according to reports from Wednesday's press conference.
While the new product does afford the user a 30-day free trial of Amazon Prime, a service that gives free shipping on Amazon orders and free live streaming of video, there is no camera on the new Kindle Fire. The company's traditional e-reader, the Kindle, will now drop to $79 in price and Amazon is expected to release a touch screen version of the Kindle this November, according to several reports.
Magazine Success and the Digital Space
It's no surprise that Hearst Magazines is looking to strike a deal with Amazon on the new device-the company announced Tuesday that its brand has now surpassed a paid digital circulation of 300,000 for monthly digital edition subscriptions and single copy sales on tablets and e-readers.
The number, which includes the Hachette titles, represents a combination of multiple platforms-from iTunes, Barnes and Noble's NOOK Color and the Zinio newsstand.
As for terms, Bob Cohn, director of consumer marketing for Bonnier, has confirmed to FOLIO: the sales model through the Kindle Fire largely resembles those of
Apple in terms of revenue share (about 70 percent goes to the publisher,
30 percent goes to Amazon). However, ownership of user demographics
remains unclear up to this point. Cohn says, "They will be sharing email
addresses of customers, but not sure what more they will share with
publishers."
According to publisher's statements filed with ABC's Rapid Report, Hearst's Cosmopolitan led the way with 81,690 paid subscriptions to digital replicas as of June 2011, while Popular Mechanics reported 21,725 and Esquire reported 20,997. O, The Oprah Magazine reported 12,567 paid subscriptions to digital replicas while Food Network Magazine had 10,554 as of June 2011.
"We have long been firm believers in the bright future of digital magazines and now we have the sales and momentum to back it up," said Chris Wilkes, vice president for the Hearst App Lab, according to a prepared statement. "The fact that we have reached this 300,000 paid distribution milestone shows that, in addition to our print sales, digital channels can truly build a viable paid to consumer business with a tremendous amount of potential as other platforms emerge."
According to Cohn, Amazon will "know the buying preferences of millions
of customers. Though they haven't told us this yet, this is going to answer into the marketing for the newsstand and the digital issues. Once they know who purchased one digital issue for an Android tablet, then they have a tremendous ability to cross-promote titles," he says.