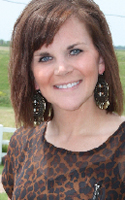 Editor
BEEF Daily
Age: 24
Takeaway: Radke has gone from intern to editor of BEEF's 39,000-circulation BEEF Daily e-newsletter. Open rates are close to 40 percent—a performance metric that's earned her newsletter a spot in the top 5 of the 27 newsletters in Penton's Agriculture Group.
Like many of the young achievers profiled here, Amanda Radke went from learner to leader in a very short period. In today's fast-paced media environment, when talent is recognized, it's surfaced to the top quickly.
Radke started with Penton Media's BEEF magazine—a publication targeting the cattle industry—as an intern when she was 20. Now, four years later, she's taken over production of BEEF Daily, a 39,000-circulation e-newsletter with an astonishing 40 percent open rate.
The newsletters average about three ads each and are, at this point, booked up six months out.
A fifth-generation rancher herself, one of Radke's keys to success is her ability to include personal anecdotes and experiences in her writing—for both the newsletter and a daily blog post. "I was lucky that [BEEF editor Joe Roybal] gave me free range to discuss topics that most interested me," explains Radke. "I shared a lot of my personal life—graduating from college, doubts about going back to the family farm, getting engaged, and buying a ranch ourselves. It's definitely more than news, it's been about my life. A lot of seasoned vets come on and offer advice."
That connection with the audience has fostered a genuine community element and directly contributes to the 2.5 million page views generated annually by Beefmagazine.com.
Radke also manages about a half-dozen photo contests each year, which further foster that community connection and regularly speaks at events on cattle industry topics and also contributes to the print magazine.
From here, Radke wants to continue building audience through more engagement tactics and continue to share her insights as a cattle rancher. "As I grow as a cattle rancher, I want to share those experiences with the readers. I want to do more contests, which really brings in the readership and build that dialog by making sure I'm commenting to readers who comment on stories," she says.