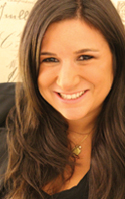 Director of Advertising Operations
Forbes Media
Age: 27
Takeaway: Papalia started as a journalist, but now oversees ad operations at one of the country's most well-respected media organizations.
Alyson Papalia had originally wanted to be a journalist, but now that she's on the business side of publishing, she can't get enough.
Currently working as director of advertising operations at Forbes Media, Papalia started out as an editorial intern. Several more internships, an entry-level position and "a lot of late nights" later, she now oversees all the operational aspects of the ads running on Forbes.com.
"My team has a hand in the sale from start to finish," she says.
Along with her group, Papalia undertook a lengthy migration onto a new DoubleClick ad server for the website in early 2012.
"It was the ad-serving equivalent of tearing down and rebuilding a house," she says. "We had to reevaluate and recreate every ad product on the site, figure out the hierarchy of the inventory, develop new guidelines and workflows and learn not one, but two completely new systems."
While the process was difficult, the changes have netted an expedited workflow, more precise targeting, increased accuracy in forecasting, and ultimately, "a dramatic improvement" in the efficiency of Forbes' digital advertising which has led to a "significant increase" in their bottom line.
Collaboration and communication were key in making the project work, Papalia stresses. Staying in constant contact with teams in editorial, product development, sales, design and finance were necessary for a smooth transition. Beyond the single project though, communication is something that runs throughout the company.
"Forbes really is like a 95-year-old start-up," she says.  "There is a constant desire to push the boundaries and to create a superior product that demonstrates the principles behind entrepreneurship and success."