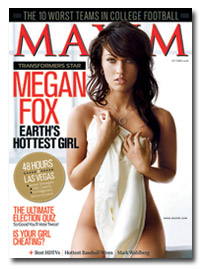 Maxim and Blender publisher Alpha Media Group has filed a lawsuit against EMI Resorts contending that the company breached the terms of the parties' licensing agreement that entitled EMI Resorts to use the Maxim brand name in connection with its resorts.
The complaint seeks an injunction against EMI Resorts, which operates the Sun Village Resorts in the Dominican Republic, to stop using the Maxim mark. Alpha Media has also filed with the U.S. District Court for the Southern District of New York a request for a preliminary injunction seeking to enjoin EMI Resorts from any further use of the Maxim mark pending the lawsuit.
The complaint also alleges that Alpha Media Group Inc. has been seeking to terminate the licensing agreement with EMI Resorts since June 19, 2008, and that continued use of the Maxim name by EMI Resorts is without consent.
Fifty or More to Be Cut, Back-End Offices to Relocate in '09
Alpha Media employees have received word that the company will lay off at least 50 to 60 people and relocate most of its central service operations to the Nashville, Tennessee, area by early next year, according to the New York Post.
Finance, manufacturing and distribution, offices services and digital technology will move to the town of Franklin, Tennessee, while editorial and publishing jobs will remain in New York.
These changes follow CEO Kent Brownridge's sudden departure from Alpha Media Group in August.
Brownridge was replaced by current co-CEOs Stephen Duggan and Glenn Rosenbloom.