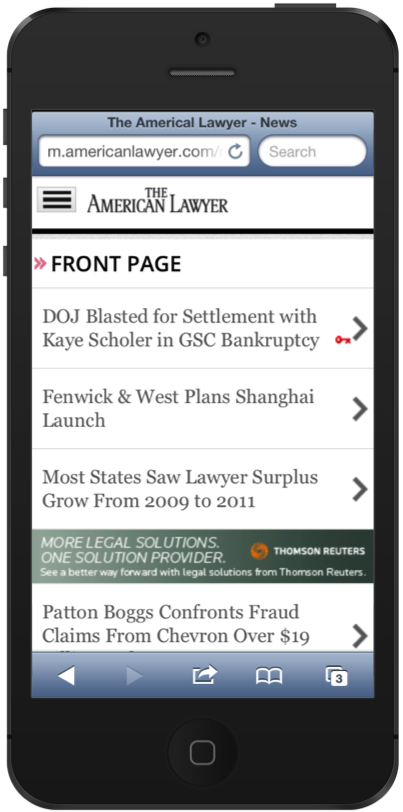 ALM is taking another big step in mobile optimization—what could be a crucial one for its mobile-friendly audience.
The b-to-b publisher of more 20 titles focusing on the legal services industry has launched dedicated mobile sites for 14 of its national and regional brands.
The move comes after the company optimized its newsletters for mobile devices in early March—which, it recently announced, has boosted open rates by more than 60 percent—and follows the hire of Jeffrey Litvack as senior vice president of digital media last fall.
"ALM's focus on developing state-of-the art sites for accessing news content on mobile devices and tablets is in response to the adoption of mobile as a preferred means by legal professionals for how they wish to keep up to date on the developments of the industry," Litvack says in a statement.
Litvack's comments are buttressed by survey results and internal metrics that suggest mobile is a key consumption platform among legal professionals. Close to 90 percent of lawyers use smartphones, according to the release, while mobile traffic to ALM properties has increased nearly 60 percent year-over-year.
Content-wise, the mobile sites emphasize recency and breaking news, as opposed to ALM's educational content or services, Litvack says.
While ALM considered a responsive design solution, they felt dedicated mobile sites were preferable, given their goals.
"Responsive design ultimately is a middle of the road approach," he says. "It's about making compromises—whether its on the mobile site or tablet or website.  This is especially true when it comes to advertising, because responsive advertising isn't there yet. For b-to-b companies, the question is: Can you afford to manage multiple sites? Where our traffic is growing so significantly on mobile sites, it would be foolish of us to not optimize the experience."