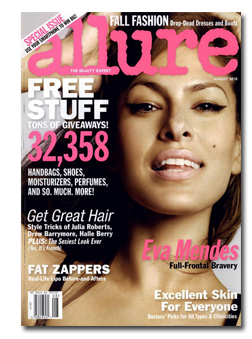 In the past, Allure magazine has turned to its Web site as the entry point for readers to participate in its annual advertiser-sponsored giveaway, which features hundreds of thousands of dollars worth of beauty products. This year, the Condé Nast title tapped Microsoft's High Capacity Color Barcode technology to feature nearly 40 customized 2-D barcodes in the August issue.
The result? The tags, which when scanned by smartphones allowed readers to enter the 159 giveaways, were scanned 444,572 times. Microsoft and Allure claim it is the largest tag campaign to date. "Editorial supported the partnership in an organic way," says John Fauller, Condé Nast's director of print to mobile solutions. "Over 35 pages of the August issue featured tags, which were incorporated into design. There was also a master tag of the contest calendar in the back of the magazine and on Allure.com."
"When done right, technology is a service, not a gimmick," says Allure editor-in-chief Linda Wells. "What we did was use tags to give readers what they want—a fast, easy and more convenient way to participate in our giveaways."
After scanning a tag, readers were asked to provide certain personal information. Fuller says Allure utilized a feature called Device ID that "lowered the hurdle for repeat performances as entry information was linked to the phone, eliminating the need to re-register."
In addition to providing value to the reader, Allure managed to capitalize on the initiative beyond just partnering with exclusive sponsor L'Oreal. The magazine says it saw a subscription conversion rate of 3.24 percent, and that 34 percent of readers who scanned the tags opted in for news and other marketing materials.