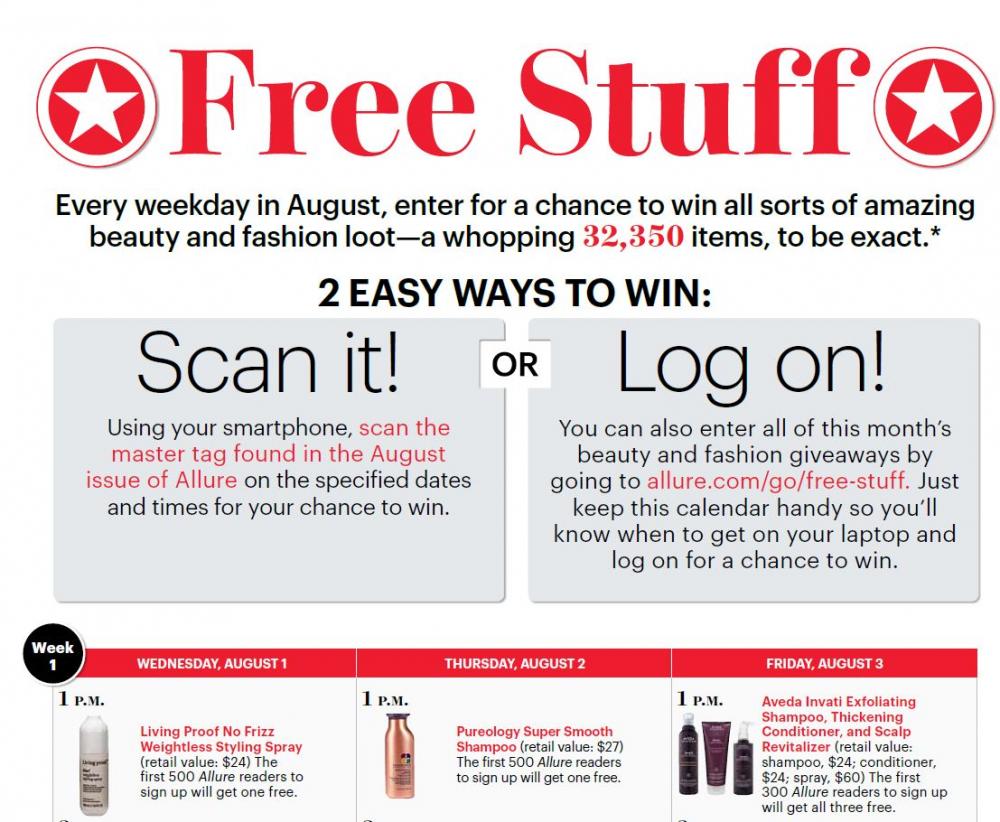 While many magazines only started this year to embrace the mobile 2D code technique of activating print with smartphones, Allure is already in its third year of a massive annual multi-platform project. The August 'Free Stuff' Issue appears this week, brimming with daily opportunities for readers to scan a Microsoft Tag and enter to win one of 32,000 beauty products. In its previous two iterations, Allure's mobilized summer freebie issue set new benchmarks for mobile interactions. Last year the issue attracted over 575,000 scans and 830,000 entries.
This year the program has expanded substantially and grown even more sophisticated. Readers will get a portable Microsoft Tag that can be removed from the issue so they can scan it to enter a daily series of two to three time-limited sweepstakes entry windows. The reader can register for specific contests so that SMS alerts are sent as reminders to enter. There will be 158 giveaways in all, the company says.
While many other magazines have embraced QR codes and less intrusive watermarking approaches to print-to-mobile activation this year, Allure is sticking with the Microsoft Tag approach, which is a proprietary model that requires the user download a discrete Microsoft Tag reader app. According to Allure's managing director of digital media Marie Jones, by maintaining the Tag as its activation platform over three years, the magazine brand has succeeded in building a base of repeat mobile users. "We have approximately 70k registered tag users and that number grows with each month's Free Stuff sampling program," Jones tells minonline. "This database is now a built-in audience. As we saw in the last two years, these early adopters are also avid scanners."
Jones says that having a reliable base of eager mobilized users helps the company promote some of its new advertiser integrations. In the new Allure issue, the company is adding a Pinterest social media componenet for ad partners called "Scan Pin and Win." In this model the user can scan Tags on six participating products in the August issue and then log into their Pinterest account to Pin the product image to their own social media board for sharing. This action enters them in a sweepstakes to win a five-night Hawaii vacation.
According to a review of top selling magazines at newsstand earlier this year from Nellymoser, 99% of the top 100 titles carried a mobile code of some kind in Q1 2012. The number of ad pages carrying codes, mostly QR, increased 288% over Q1 2012. Increasingly, magazines have been trying to capture this advertiser interest in activating print by crafting their own uniform programs like Allure's. Also popular among magazines this year are "companion apps" that include scanning technologies. Lucky, House Beautiful and other titles have used this approach in order to keep readers within their own brand when activating print pages and delivering to marketing partners more substantial metrics on use and persistent engagement with a reader.
*Editor's Note: This story originally appears on FOLIO: sister site, minonline.com