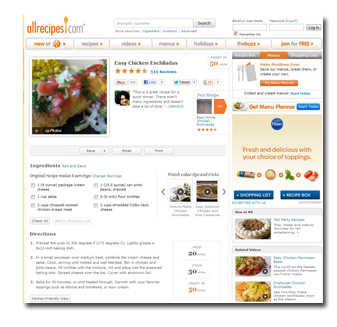 *Editor's Note: This story originally appears on FOLIO: sister site, minonline.com.

With almost half of its audience now expected to be coming from devices around the beginning of 2013, Allrecipes.com is taking some lessons from mobile-first design principle. In a newly redesigned recipe page at its site, the publisher is adopting more of the simplicity, look and feel of the recently redesigned mobile site at m.allrecipes.com.
Among the changes, Allrecipes.com streamlined the page to bring the most necessary sharing and saving tools front and center rather than in dropdown menus. The delectable food images, which ordinarily dominate a mobile site page, are now larger on the web site too and surrounded by images of related dishes and videos. An integrated sharing button makes pass-alongs much easier. And a check box interface for the shopping list, also found at the mobile site, sends recipes into the shopping list feature more efficiently.
These little mobile-inspired tweaks have an effect, in Allrecipes tests. When about a third of the audience was exposed to the new recipe page design, they increased their use of the shopping list function 11.1 percent. Users were clicking through to video content 9.6 percent more often and overall page views from the test group were up 3 percent.
Allrecipes VP of brand marketing Esmee Williams says, "As media consumption habits shift, Allrecipes is committed to providing our community of 25 million family focused women a seamless multi-screen experience that connects them with premium food focused content whenever and wherever they need, whether it be on a PC, tablet or mobile device. Our enhanced mobile site is also a premium opportunity for brands to engage women and accelerate brand advocacy with home cooks at all points of need – from planning to purchase."
Since its redesign of m.allrecipes.com months ago, the company says it has seen substantial increases in activity. Because tools were more accessible, additions to member's personal Recipe Boxes were up 120 percent from the mobile site, and adds to the shopping lists were up 45 percent. In just a few months the mobile site has generated over 76.6 million page views. Allrecipes says currently 40 percent of monthly unique visitors are coming from mobile sources. It expects that trend to continue and bring the share to 48 percent in the next several months.
Generally ads on Allrecipes.com run across both the desktop and mobile versions of the site, with units that are appropriate to each screen size running there. If an advertiser does not have unique creative for the different formats, Allrecipes says that it has a custom HTML5 solution to provide the client. They also can create landing pages that are mobile-friendly.
The company says that about 10 percent of unique visitors and page views now come from tablets, but these browser are directed to the main Web experience, not to m.allrecipes.com.
Allrecipes is following in spirit if not in name a "mobile-first" approach to site design that argues that content should design towards and learn from its implementation on the smallest screen and then work backwards to create seamless experiences on the larger displays. Mobile design forces brands to make hard choices about what is genuinely useful to the user, because mobile customers have little tolerance and long memories for poor experiences on handheld devices. Slowness, clutter, obtuse navigation all affect levels of use and retention. Some publishers admit they are learning lessons from designing for mobile that are now being reflected back on the notoriously cluttered desktop Web.
Stay updated on the latest FOLIO: news, follow us on Facebook & Twitter!