AllRecipes.com Sees Jump in Traffic

Holiday visit activity leads to data insights.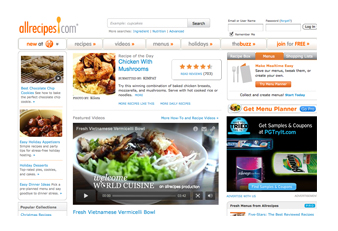 Meredith's AllRecipes.com is enjoying growth this holiday season—the day before Thanksgiving, the site reported more than 7.9 million visits, breaking its all time record. Visits to AllRecipes.com from mobile devices the week leading up to Thanksgiving Day were up 97 percent year-over-year, with the total number of visits from mobile devices for the same time period reaching 12 million.
"Thanksgiving is always the biggest cooking holiday of the year so we've consistently experienced record traffic during that time—this is the 15th consecutive year that AllRecipes has experienced such strong year-over-year growth," says Esmee Williams, vice president of Brand Marketing for AllRecipes.com.
In order to extend the brand's momentum beyond Thanksgiving, Williams says the site is rolling out more digital products to meet the needs of its users. The recently-launched Video Cookbook app for Windows 8 and iOS, for example, saw nearly 20,000 unique visitors the week of Thanksgiving.
"At one point you might have flipped through a cook book or turned on a television but a lot of people realize that they can get the answers to their cooking questions immediately though how-to videos online," she says. "Our how-to videos were up 200 percent year-over-year."
Nearly 4 million home cooks visited AllRecipes.com from a tablet device the week leading up to Thanksgiving, a 232-percent year-over-year increase—more than 1.6 million users sought out this original, made-for-Web video content. Since the site spends about 10 months prepping for the November and December months, the site leverages its traffic figures to support its ad partners.
"As our traffic scales, so do our impressions so we definitely have more inventory to offer and for multiple years we've sold out our inventory during Thanksgiving," says Williams. "We work with all of our partners to get their recipes integrated into the site over the course of the year and we work with them to bring their recipes to the surface through different advertising products. It helps to build a community and a really great search footprint—that helps not only home cooks discover the partner recipes on our site, but also in places like search engines like Google, Yahoo! or Bing."
In addition to offering website ads, Williams says AllRecipes rolls out newsletters that are exclusive to the season to help brands become part of the story. Social media campaigns, like its "Best Thanksgiving Ever" Pinterest sweepstakes that was executed in partnership with Campbell's also helps to support sponsors while driving traffic.
SEE ALSO: Meredith Teams Up With Campbell's For Holiday Pinterest Sweepstakes
"We're a pretty data-driven company so we're going to be taking a look at what consumer behaviors were and prioritize our projects that we think can further serve their needs," she says. 
Stay updated on the latest FOLIO: news, follow us on Facebook & Twitter!
Meet the Author
---