The All-You-Can-Read Subscription Offer

French distributor launches flat rate access to digital titles. Is U.S. next?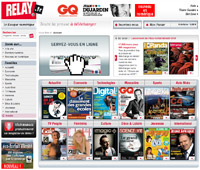 The French are taking the all-you-can-eat buffet gimmick to the digital newsstand.
According to a post I read yesterday on PCWorld.com, a French distributor has launched a subscription offer that allows customers to pay a $28 monthly fee to be able to download any or all of its 400 magazine titles, including Glamour and Playboy. There's no limit to the number of digital magazines one can download.
U.S. digital magazine publisher Zinio offers individual subscriptions, but this appears to be the first to offer a flat rate all-you-can-read model.
I'm not big on reading digital magazines, but why did no one think of this sooner? Pony up a reasonable monthly flat rate to gain access to a slew of digital magazines? That's great.
The music industry is grappling with this distribution model , too, as a number of record label are experimenting with subscription-based downloads, and Apple's iTunes—which recently surpassed Wal-Mart as the largest music retailer in the U.S.—is rumored to be prepping one.
Maybe this is another jab in the side of print publishing. There again, Time Inc. later this year is expected to launch a Netflix-like print sub service called Maghound.
We'll have to wait and see if/when this flat rate downloadable sub model makes its way to this side of the Atlantic.
Meet the Author
---