All You Brings Social Commentary Into Print Product

The Time Inc. shopper's title launches user-generated content feature.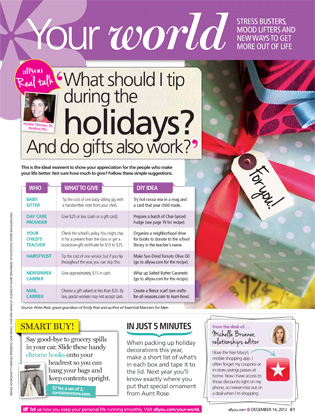 All You has even more "you" now after incorporating reader comments and questions into nearly a third of the pages of its most recent edition.
The December issue of All You debuted "Real Talk," an editorial feature that opens each of the magazine's sections with a question from readers. The franchise is threaded throughout the book as well, with flagged reader comments appearing as sidebars within several stories.
An expansion of the testimonial advertising program "Reality Checkers" was also introduced, adding social sharing elements.
True to its name, the magazine has always incorporated user-generated content into its print and digital products, but has broadened its use recently with "Real Talk," "Reality Checkers" and a digital video curation initiative.
"From the day we launched in 2004, social has been a big component of the brand," says Nina Willdorf, executive editor of All You. "As editors, our job is not to push information out, but to open up the dialogue and a conversation to other readers, and to capture that dialogue in a way that's most compelling."
Market–frequent women shoppers looking for value–and distribution–more than a quarter of their 1.5-million circulation comes from an exclusive deal with WalMart newsstands–makes user-generated and social content especially relevant for the title, Willdorf says.
"Consumers like to take advice from other consumers," she says. "You see on Facebook, people share their favorite things with each other and take each other's advice. We're taking that thinking and applying it to our brand. All You is hitting something that's very resonant right now."
With the addition of social sharing features to the "Reality Checker" platform, All You is offering members of the 50,000-plus network the option to send out reviews of select marketer products within their own social spheres.
Testimonial content from the program has already been used in magazine advertisements for several years now, and the sharing option is a natural extension, according to Willdorf.
"We're giving them a vehicle to do something that we know they do anyway," she says.
All You filters the user-generated content that is presented on its owned platforms, but the nature of social precludes that, Willdorf admits. The conversation will be monitored, but ultimately, it's out of their hands.
That essentially leaves the door open for All You-sponsored criticism of its own marketers' products. Willdorf is comfortable with that however.
"We do believe that authenticity is really key to have people believe what you're telling them," she says. "If you look at our Facebook page, people tell us a lot. They tell us the good, the bad and the ugly, and we value it all."
To stay updated on the latest FOLIO: news, become a Facebook fan and follow us on Twitter!
Meet the Author
---