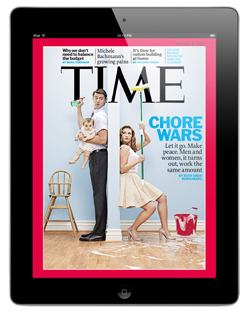 With 11 million downloads of its digital magazines and other content apps to date, Time Inc. is moving its entire magazine portfolio to the tablet platform. By year's end, all 21 Time Inc. titles will be available for download.
Time Inc.'s remaining 17 titles will join People, TIME, Sports Illustrated and Fortune on the tablet platform by January 2012. As of right now, there is no timetable in place for when each publication will make its digital debut.
A Time Inc. spokesperson says of the continual integration of the company's portfolio into the tablet space, "We didn't rush into it in the beginning because we wanted to test all the systems and make sure we have everything in place; now we're ready to do it."
Currently, Sports Illustrated, TIME, People and Fortune are available for the iPad and the HP Touchpad. SI and TIME are also available for Android and Samsung devices, as well as through the Next Issue Media Store.
In addition to transitioning all titles to the tablet platform, Time Inc. announced today that later this month, the four digital editions currently available for tablets will also be sold on the NOOK Color e-reader, accessible for single copy and digital download.
Consumers will be granted the "All-Access" treatment for all Time Inc. titles, which offers one price for digital and print products. Current print subscribers will also be given the option to add digital to their packages without additional cost.
Time Inc. is planning to report both digital sales and subscriber info to the Audit Bureau of Circulation beginning in January 2012; Conde Nast will also be sharing its digital metrics with ABC for its June issues, in order to aid the standardization of audience engagement stats across the industry.
Print ads in Time Inc.'s magazines will also be integrated into its digital editions, as "Time Inc. research shows consumers place a high value on digital editions that include ads," according to a company press statement.