Alain Lemarchand

CEO | Hachette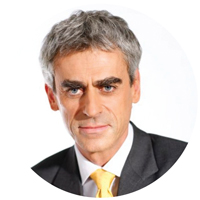 Last summer, Jack Kliger, Hachette's longtime president and CEO and recent chairman of the Magazine Publishers of America, announced he would relinquish his role at Hachette's U.S. division. In stepped Alain Lemarchand, chief operating officer of French parent company Lagardère Active. After months of studying the business—Lemarchand last month announced a restructuring of its women's magazine brands, including Elle and Woman's Day, each aligned with a "chief brand officer."
As Lemarchand's first major move since taking over, some would argue it was a surprisingly thoughtful one. Hachette had become known for its somewhat itchy trigger finger—pulling the plug on growing magazines like ElleGirl.
Lemarchand, too, has an unwavering eye on the bottom line. "We have to make sure every dollar we spend is unavoidable, is strictly critical to the business," Lemarchand told the Wall Street Journal recently.
And there's reason to be cost-conscious. Elle managed to grow its ad pages five percent in 2008, according to the Publishers Information Bureau, but other titles, including Woman's Day (-7.5 percent), Metropolitan Home (-3.5 percent) and Car and Driver (-11.3 percent) were down significantly.
Lemarchand has no U.S. publishing experience. But in terms of corporate business management, he certainly has the pedigree. He held the position of CFO for various Lagardère subsidiaries in France and the U.S., and in 1999 became head of financial communication and investor relations management for Lagardère SCA. In September 2006, he became a member of Lagardère Active's executive board.
In terms of being thrown into a dicey managerial situation—replacing a magazine institution in Kliger and charged with cutting costs and instilling confidence in Hachette's weary staff—and coming out, at least to this point, unscathed, Lemarchand deserves recognition.
VITAL STATS: Elle grew ad pages 5 percent in 2008, but Hachette's other primary U.S. magazines, including Woman's Day, Metropolitan Home and Car and Driver, were down.
Meet the Author
---