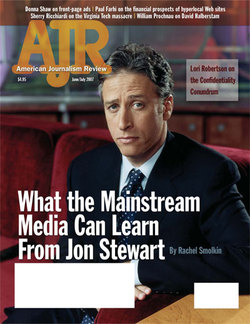 As newsrooms continue to shrink, journalism and media students are facing a harsh reality upon graduation. Media companies are changing business models and expectations rapidly.
Those changes are starting to trickle down to colleges.
The American Journalism Review (AJR) is ceasing print publication and will go online only with a redesigned website beginning in the fall.
The AJR, focusing on media criticism and analysis, will remain closely tied to its publisher, the University of Maryland Foundation, and the University of Maryland's Philip Merrill College of Journalism. Both the magazine and website frequently feature student content.
"The model for publishing has clearly shifted to digital formats as online readership has grown," says Lucy A. Dalglish, dean of Merrill College, in a statement. "It no longer made financial sense for the award-winning AJR to continue producing a print magazine because most AJR readers accessed content on the Web."
The 36-year-old bimonthly magazine had a qualified circulation of 25,000, according to its media kit.
Dalglish also cited dwindling donations-a critical source of funding for AJR and media criticism, in general-as a reason for the decision.
"That support has steadily declined over the past 10 years," she says.
Merrill isn't the only college to undergo recent changes to its journalism department. AJR's news follows a decision by the University of California's Annenberg School for Communication and Journalism to scrap its two-year M.A. journalism degree for a nine-month M.S. program.
To stay updated on the latest FOLIO: news, become a Facebook fan and follow us on Twitter!