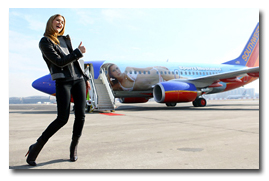 Here's when a magazine marketing idea that sounds good on paper can backfire.
Southwest Airlines is taking some heat over the steamy picture of Sports Illustrated swimsuit issue cover model Bar Rafaeli splashed on the side of one of its commercial 737s.
Since the illustrated jet first hit the runway February 11, the airline has received angry letters and comments on its official blog about the SI tie-in promotion. "This looks like a flying porn ad," one commenter wrote. "I'm a longtime fan of SWA, this is one reason for me to change airlines."
"I find this tacky and somewhat offensive," wrote another. "I am a twenty-something male, and I would not want to have to watch this plane pull up to the gate traveling with my young child, or mother, grandmother, etc. I know Southwest is known for its fun, laid back qualities, but this is just completely inappropriate to plaster all over the side of the plane."
A Southwest spokesperson said about a quarter of the response it has received about the promotion so far has been negative. "As with anything that's different and unique, you do hear from some people who disagree," the spokesperson said. "We wanted to make sure it was in good taste before we put it up on the aircraft."
Likening the image of Rafaeli to porn, however, is where I take exception. How different is this than a billboard on the side of a highway? Is it different than ads in fitness magazines? How about a day at the beach?
I'm not sure what SI publisher Time Inc. thinks about all the negative attention. A spokesperson did not return a request for comment today.
SI should be used to controversy when it comes to the marketing of its swimsuit issue, however. Mayor Bloomberg's office, for example, tried to stop David Letterman from unveiling this year's cover on a New York rooftop. (Their beef? Traffic.) Last year, even a Time Inc. staffer took issue with the issue ("Time Inc. Staffer Complains About SI Swimsuit Issue: 'My Company Made Me Look at Porn'").
And all this, by the way, from the airline that in 2007 booted a female passenger whose clothes it deemed were inappropriate (read: showing too much skin) for flight. Somewhat ironic, isn't it?
[Image via fannation.com]