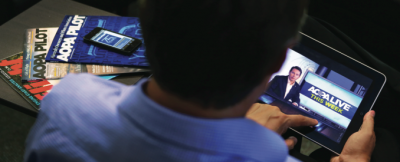 Multiplatform publishing has been a priority for the Aircraft Owners and Pilots Association for decades. Of course, it has to be given that its core constituency is flying all over the world all the time.
The AOPA is a large organization, boasting a membership of around 350,000. Beyond that, it develops content that reaches beyond its membership to deliver news and information to various organizations and officials, including members of Congress and other government organizations like the Federal Aviation Administration.
"It's a strategic move on our part because we knew if we went that route we could reach other influencers," says Tom Haines, editor-in-chief and senior vice president of the media division. That strategy is working when you consider that just one of its email newsletters has an additional 60,000 non-members signed up.
But that only begins to scratch the surface.
The organization has two print magazines-AOPA Pilot and Flight Training-which are its primary content platforms. In fact, Haines says the entire content strategy is built around the two magazines. Members have the option to get one of the titles free but can purchase a subscription to the other. And he says there are "a significant number of members" getting both.
"Print is definitely our bread-and-butter product and continues to be," he says. "We are working hard like everyone else to increase revenue on the digital side."
The magazines are ad supported and available through digital editions. However, there are many more ways its audience can stay connected.
A responsive design website is broken down into seven verticals for deeper dives into specific categories. Additionally, AOPA distributes six email newsletters-all responsive design.
Like many other publishers, video has become a new priority for the AOPA. Haines admits that video was a tough transition for the organization, but one that is working out. "We have a great audience that is engaged," he says. We choose carefully when it comes to moving into a space but, at this point, we are effective in all the places we go. We've done a good job of being really focused on being wherever they are."
That said, he confesses that social media is one area that needs improvement. But with nearly 70,000 followers on Facebook and another 27,000 on Twitter, the organization is more than just off to a good start there.
Events are another piece of the pie for AOPA and this year the organization is trying something new.
Rather than a single national convention for its audience, the organization is instead launching seven regional events. Haines says the strategy is a test this year, but the locations are very strategic and they expect the new plan to be a success. "The goal at the end of the year is to touch and interact with more members."