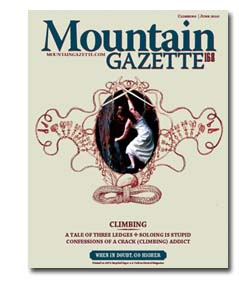 Summit Publishing, the owner of several outdoors publications, has acquired Mountain Gazette from Active Interest Media's Skram Media unit. Terms of the deal were not disclosed.
Under Summit, Mountain Gazette will be a part of the Outdoor Adventure Network, a network of small publications brought together into one group to sell national advertising into regional publications. Summit also publishes Blue Ridge Outdoors, Elevation Outdoors and Breathe magazines.
Mountain Gazette will continue to be edited by John Fayhee, Summit says, and will keep its other current staffers. "We are going to work hard to restore this publication to its former glory," Summit president and owner Blake DeMaso wrote in an e-mail to FOLIO:. "That means everything from edit, to look and feel, to advertising. Mountain Gazette is an incredible brand and publication and it really just needs some attention and the guidance of a company that specializes in regional publications."
Launched in 1966 as Skiers' Gazette, Mountain Gazette was purchased by Skram Media in 2008. Skram, in turn, was acquired by Backpacker and Yoga Journal publisher Active Interest Media this summer. The deal was structured to allow AIM to manage Skram operations under an agreement to purchase the company in three years based on certain performance benchmarks.
According to Skram Media founder and publisher Mark Crowther, the divestiture will help Skram to focus all of its efforts on the company's other titles—Climbing and Urban Climber.
The first issue of Mountain Gazette under Summit will be the September 2010 issue. The magazine will continue to be published monthly (45,000 circ) and be distributed in its home state of Colorado, as well as parts of Arizona, Idaho, Montana, New Mexico, Utah and Wyoming.