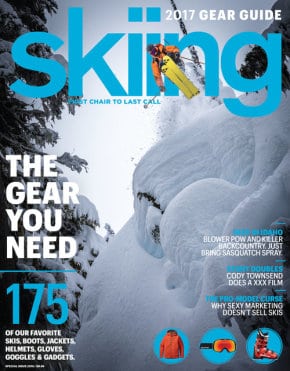 Active Interest Media has shuttered the print edition of Skiing magazine, the Boulder, CO-based enthusiast publisher revealed this week.
The quarterly magazine catering to passionate skiiers, in circulation since 1948, will maintain its digital presence but have much of its print content and resources redirected to its bimonthly sister title, the more family-friendly and broadly appealing Ski magazine.
With an emphasis on devoting greater resources to digital content, particularly video, the closure of Skiing's print edition is part of an overall repositioning of both AIM's Mountain Group, which also includes production studio Warren Miller Entertainment, and it's greater Outdoor Group. Part of that repositioning, says president and CEO Andy Clurman, involved Warren Miller managing director Andy Hawk's promotion, a month ago, to managing director of the Mountain Group.
"We are really focused on the total audience and the growth is in mobile and video," Clurman tells the Denver Post. "In some cases, if there is less in print in the form of Skiing, there is more content going out to more people in total and that's really the whole mission."
Despite ending the magazine's seven-decade print run, it doesn't appear that AIM has plans to lay off any of its staffers. Sales, marketing, support, and much of Skiing's content creation was handled by a shared staff, all of whom will remain, a company spokeswoman tells Folio:. The brand had one full-time editor, Kim Beekman, and one full-time designer, Signe Higgins, both of whom will remain with the company moving forward, although their exact roles remian unspecified.
The move bears a number of striking resemblances to rival enthusiast publisher TEN: The Enthusiast Network's decision, two weeks ago, to shutter Surfing magazine in favor of its more widely read sister title, Surfer — part of a parallel pivot at that company toward a greater focus on digital and video.
"The advertising market in traditional publishing is contracting, especially in areas where your'e dealing with younger demographics," TEN CEO Scott Dickey told Folio: at the time. "The idea that brands were going to support multiple titles within a vertical doesn't make sense anymore."