AgWeb for iPad Aims for Touch Sensitive Farmer

Free app offers reports but needs more of what AgWeb does best.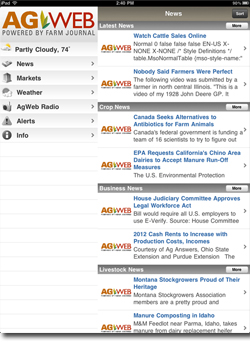 This story first appears at FOLIO: sister site minonline.
From our snooty environs along the Washington to Boston Northeast corridor, we can't say for sure how much of Farm Journal's agribusiness readers across the heartland are sporting iPads these days. But the newly released AgWeb for iPad will give them at least some of those tablet-wielding farmers a portion of what they are looking for in trade news. Alas, this half-hearted effort relies on a third-party engine that is more hit than miss.
The free app uses a split screen approach to delivering some of the dynamically served news from the AgWeb Web site. The layout works better in landscape mode, which gives the user a narrow left nav bar with buttons for News, Markets, Weather, AgWeb Radio. The app uses geo-location to provide the weather at all times. The News section is the most useful part of the app. Here the top two stories across AgWeb's main categories (Crop News, Business News, Livestock News, etc.) are visible with several sentences of detail. This is good for a quick take on the latest feeds from the site. Hitting the More button on any of the categories will bring up the full stories listings for the sub-head. Once you get to the meat of a full story a Share button allows for email, Facebook or Twitter posts.
For the rest of the review, click here.
Meet the Author
---