'Aggressive Expense Management' Saved Meredith $40M

Rep: 'We are only filling essential positions.'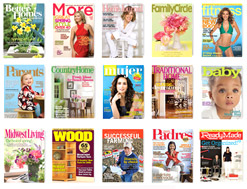 While most executives refused to speak on the record about the rash of layoffs and overall panic in the magazine industry, one, Meredith's Art Slusark, actually did (although, keep in mind, he is a spokesperson for the company).
Here's his unedited take:
We are in a very tough economic environment overall, and for media companies in particular.  Visibility is very low, and it's difficult to predict the duration of the current advertising downturn. It is equally difficult to forecast how advertising budgets, which generally reset with the start of the new calendar year, will change as we begin Calendar 2009. We do believe current marketplace trends are cyclical, not structural.  Data related to advertising spending and consumer media usage supports this position.
Given the current economic environment, we are putting increased emphasis on aggressively managing expenses across the company.  Despite 22 percent higher paper prices, total company expenses declined 3 percent in the first quarter of quarter fiscal 2009, which ended September 30, 2008. Excluding acquisitions, total company expenses declined 5 percent. Our strategic sourcing initiative has saved us more than $40 million in vendor costs.  We are only filling essential open positions.
While the weak economy continues to significantly impact the demand for advertising, the other fundamentals of our business remain strong.  Our circulation metrics are solid. Our non-advertising related businesses, particularly Meredith Integrated Marketing and brand licensing, are posting strong revenue and profit growth.
Meredith is executing a three-pronged performance improvement plan to address the current environment. Our strategies include:
1. Special sales incentives and new marketing programs to maximize market share in our core publishing and broadcasting businesses;
2. Aggressive expense management, including tight control of labor and vendor costs; and
3. Revenue diversification initiatives to accelerate growth of new revenue streams, many of which are not dependent on traditional advertising.  These include the aforementioned integrated marketing and brand licensing operations, both of which we've expanded significantly in the last two years.  We've also invested in new tools and platforms across our 40+ Web sites and broadened the reach of Meredith Video Solutions – our in-house video creation unit.
Meet the Author
---