Agenda Magazine to Relaunch as Best Events

New look, resources on tap for special event and meeting planners.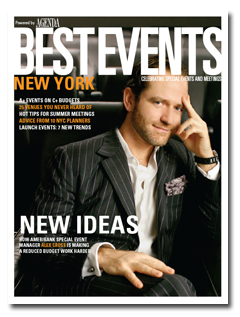 After two decades as the first publication serving the information needs of special event and meeting planners, Agenda is relaunching as Best Events. The new magazine, published by Red 7 Media, will debut in June in three of Agenda's regional markets: New York, Chicago and California.
"The difficult economic climate, combined with corporate and government scrutiny on meetings and events, is putting new demands on professional event planners to deliver on-strategy, business-building events," said Best Events publisher Dan Hanover. "With our relaunch, we will provide planners in our key markets with the content, tools and exciting new resources to help them create the best events for their companies."
Best Events will serve event professionals in six U.S. markets—New York, Chicago, Boston, Washington, D.C., and Northern and Southern California—with publications, directories and expositions. Best Events' national circulation will be 35,000. 
The magazine will feature local profiles of planners, coverage of upcoming trends and expanding portraits of new events—with a focus on the strategy and execution of the "best events." Content will span print and online at besteventsmag.com. (Red 7's Eventpeeps.com is the largest social network for event planners, with more than 6,000 members.)
The company also will launch the first-ever Best Events Awards competition delivering recognition across the special event and meetings industry.
Red 7 Media, which acquired Agenda in 2006, also publishes Event Marketer, Event Design and EXPO magazines, as well as FOLIO: and Audience Development.
Meet the Author
---