AgWeb Launches App Finder for Farmers

Farm Journal Media's new mobile site aggregates, reviews and recommends apps.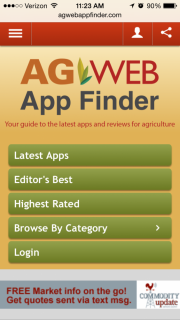 Farm Journal Media has created the AgWeb App Finder to help its audience of farmers find and select Ag-related apps. The mobile-optimized site can be accessed on desktop, tablet or other devices.
The apps are organized and searchable by category, ratings and more. Categories include markets/commodities, weather, business, livestock and crops.
The mobile site offers not only app aggregation, but also reviews. All of the featured apps have ratings by the AgWeb staff, and users also can add their own ratings and reviews. App reviews will be added by the staff "as they hit the market," says Boyce Thompson, editorial director of AgWeb.
With the app finder AgWeb is hoping to keep users coming back, viewing the brand as a go-to source for farming news, advice and tools. "The benefit for AgWeb is mostly in reinforcing its leadership position in the Ag online market," says Thompson. "We are even reviewing apps from competing companies."
AgWeb chose to create a mobile website instead of its own app in response to mobile trends that the company has seen. "One-third of our traffic is mobile," says Thompson. "And the website is about to become responsive. This made the most sense to us."
Discoverability of apps has been less than ideal for a long time now. Apps are placed in the App Store and primarily searchable by title, which isn't always helpful. So when farmers are looking for a useful app to help with their business, they don't want to dig through FarmVille and other games that have nothing to do with real farming to find what they need.
Farm Journal Media has continued to stay on the front line of digital media. CEO Andy Weber delivered a keynote address at FOLIO:'s MediaNext event in 2013, and said that the company has recently grown from print-centric to digital media powerhouse. In the past five years (as of 2013) the company has doubled in size by focusing on product development and acquisitions, and Weber says they plan to double again by 2018.
Meet the Author
---