After One Month, Allrecipes Bumps Rate Base 30 Percent

Meredith's new bimonthly will jump to 650,000 copies next April.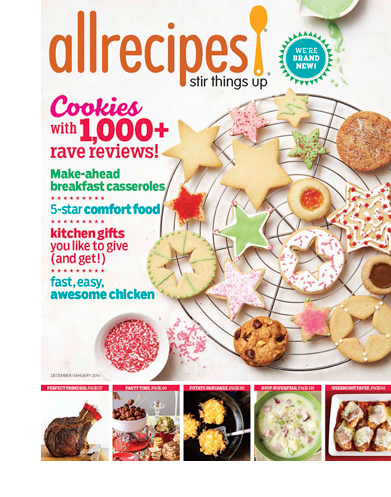 After just one month in print, Allrecipes, the print extension of Meredith's Allrecipes.com, plans to boost its rate base another 30 percent from 500,000 copies to 650,000 copies. The increase will take effect with the April 2014 issue.
The magazine hit the market in early November as a bimonthly with a $4.99 cover price. The 500,000 rate base was set after a spring test issue picked up 400,000 subscriptions in two weeks.
Meredith bought Allrecipes.com from Reader's Digest Association for $175 million in early 2012.
Part of the print magazine's success may be attributed to the brand's cross-platform strategy, with the various extensions throwing out impressive numbers. When the magazine launched, Allrecipes-branded segments began airing weekly on Meredith's syndicated program The Better Show, which airs in 160 markets and 90 million homes around the country.
The Allrecipes YouTube channel has 600,000 subscribers and the brand's 11 apps have been downloaded 18.5 million times. Plus, the company claims 1 billion visits in a year across Allrecipes' 18 websites serving 23 countries.
With scale like that, the magazine had better hit a 650,000 rate base. When the magazine launched last month, Tom Witschi, executive vice president of Meredith's Women's Lifestyle Group, told Folio: that the 500,000 rate base might indeed get adjusted quickly. "We will be aggressively increasing that over time," he said. "Our intention is to grow very quickly."
Meet the Author
---