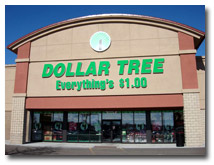 With newsstand sales still struggling to make any significant headway, Meredith, like most publishers, has been under pressure in recent years to find alternative sources for retail sales. And it appears one of those sources resulted in a spike in newsstand sales—and got them into trouble with Wal-Mart.
During the second half of 2007, Meredith's Better Homes and Gardens posted a 71.5 percent jump in single copy sales, according to ABC's FAS-FAX. That jump, according to well-placed newsstand sources contacted by FOLIO:, is thought to be largely attributed to selling issues at steep discounts at Dollar Tree stores, which attracted the ire of Wal-Mart and may have threatened a significant licensing deal Meredith recently struck with the big-box retailer.
While there's nothing inherently wrong with selling magazines through alternative and steeply discounted outlets such as the dollar stores, the strategy does have an impact on both the brand perception and the rest of the distribution chain. Indeed, Meredith has since discontinued its distribution into the dollar outlets when, according to sources, Wal-Mart threatened to turn the publisher's titles away from its newsstands.
"We had always planned to phase these programs out," a spokesperson for Meredith told FOLIO:. The spokesperson declined to comment on details of the specific distribution programs, such as the Dollar Tree Store, and the Wal-Mart deal, citing proprietary concerns.
Meredith's Better Homes and Gardens and Ladies Home Journal were both on the notorious Wal-Mart list of magazines scheduled to be cut from its stores. They have since been reinstated.
Other titles distributed into the dollar stores, according to one of the sources, were Family Circle and Ladies Home Journal. All three titles are distributed by Time Warner Retail, which did not return phone calls for this story.
According to ABC's FAS-FAX report for second half 2007, single-copy sales rose 71.5 percent for BH&G, 12.7 percent for Family Circle, and 37.5 percent for Ladies Home Journal.
Controversial Circ Practice
"One, you're devaluing your product, and two, you're damaging your relationships with your major retail customers," says John Harrington, a noted industry consultant and publisher of the New Single Copy newsletter. "Plus, it could have damaged the branding agreement Meredith had [with Wal-Mart]."
The Wal-Mart branding deal, which included a range of home products based on the Better Homes & Gardens brand, was announced last October. The new line will be available this fall.
That licensing deal would look strange without the namesake magazine on the retailer's shelves.
According to a source familiar with the arrangement, the copies sold in the Dollar Tree stores were overrun copies still within their on-sale period. "I don't know if they were returnable or if it was a one-way sale, but they were probably one-way if they were only a dollar a copy," says the source.
Since the copies were still within their on-sale periods, the steep discount was a tough pill to swallow for other major retailers who sell the magazines at cover price.
Pulling the magazines from the dollar stores should, after all, not have a material impact on the publisher's overall newsstand strategy. They were sold for a dollar, after all. For Better Homes & Gardens, single-copy sales represented about 5 percent of total paid and verified circulation; for Family Circle, a more robust 23 percent; and Ladies Home Journal, about 10 percent, per ABC.