After Merger, Layoffs, TV Guide Names New Editor-in-Chief

Debra Birnbaum replaces former top editor Ian Birch.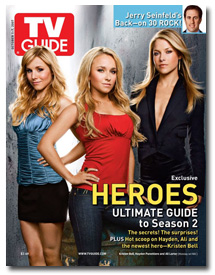 Less than a week after cutting an undisclosed number of
staffers in association with parent company Gemstar-TV Guide's approved
$2.8 billion merger with Macrovision Corporation, TV Guide has continued
its personnel reorganization by announcing two executive promotions.
Debra Birnbaum, who most recently served as executive editor
of TV Guide's cross-platform integration, has been named editor-in-chief.
Birnbaum replaces Ian Birch who, along with several senior-level editorial
staffers including Gemstar chief executive Richard Battista, was let
go.
A TV Guide spokesperson declined
to comment on specific terminations. A Gemstar spokesperson did not return
a call for comment.
Before joining TV Guide, Birnbaum served as editor-in-chief
of Life and Style and as executive editor of Inside TV magazine. TV Guide also
promoted West Coast bureau chief Craig Tomashoff to executive editor.
According to the company, TV Guide will expand its breaking
news coverage and will weave more opinion and perspective into the magazine.
TV Guide's first quarter ad revenues were $57.2 million, up
22.2 percent over the same period in 2007. Ad pages were up nearly 11 percent.
It is clear that Macrovision intends to find a buyer
for the publishing business, including TV Guide. It is unclear, however, whether or not it intends to sell its online publishing assets, including TVGuide.com.
Meet the Author
---