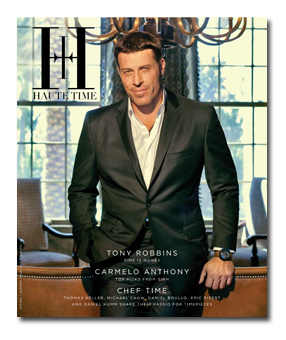 Courting a digital audience before introducing a print product is becoming a much more common practice by content publishers, and a strategy that new enthusiast magazine Haute Time is betting on. The new 50,000-circ, biannual pub launched on Monday and is hoping to tap the power of social, celebrity and digital as a blueprint for success.
In April 2012 Haute Media Group introduced a group of niche sites focused on the luxury consumer demographic as a spin off to its Haute Living magazine; the media network includes sites HauteTime, HauteAuto, HauteResidence, HauteYatchs and HauteFashionDaily.
See Also: Haute Living Introduces Media Network

With this new print product the company has tapped NBA basketball player and New York Knick Carmelo Anthony as a co-founder—giving the brand unique access to the star's millions of social followers.
"Unlike most magazines that launch in print first, we launched in a digital format first," says co-publisher Seth Semilof. "The brand's first cover mogul and business strategist Tony Robbins linked the magazine to his 3 million followers and Carmelo linked to his 5 million followers. The first day alone we had more readers read the book digitally than we'll have in print—we're printing 50,000 copies and we had over 50,000 people read the magazine online on the first day alone."
Anthony has helped the brand leverage social media—he posts a "Watch of the Day" on Instagram to his more than 1 million followers to build buzz, he tweeted a link to the digital magazine to his more than 3.1 million followers, and shared it with his more than 2.3 million Facebook fans.
The partnership between the media company and the basketball star arose after Anthony was on the cover of flagship sister magazine Haute Living about two years ago and became a follower of the Haute Time site.
"Carmelo came to us and told us he wanted to get involved in the media business and that he'd love to be an investor in Haute Time magazine," says Semilof. "He wanted to do a magazine for people like himself—athletes and celebrities that like to buy watches—because most watch books are very technical and boring. He's become a partner and investor."
The first issue has already courted several luxury timepiece advertisers and distribution will included NFL, NBA and MLB locker rooms, as well as private jets. It will also be mailed to about 14,000 homes with incomes over $5 million, in addition to over 500 luxury watch boutiques worldwide. The digital edition will be available on the U.S. Haute Time site, as well as Haute Time Russia, and is downloadable via iTunes or Amazon.com.
The publication will be biannual for the first year, with goal of going quarterly in 2014, with a print publication also coming to Russia next year. HauteTime.com will continue to update its site regularly with news content.
"Our goal is to say to advertisers that print is not dead," adds Semilof. "Online isn't just the way to go—you have to do both. If you're not strong in both you're not going to be successful because our print magazine will reach the ultimate elite that can actually afford these watches."
Stay updated on the latest FOLIO: news, follow us on Facebook & Twitter!