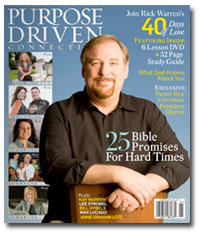 SEE ALSO: What Went Wrong with Purpose Driven Connection?
After a much-hyped launch earlier this year, Purpose Driven Connection—published in partnership between Saddleback Church pastor Rick Warren and the Reader's Digest Association—will cease to publish in print. Instead, the title will go online-only starting in January 2010.
In September, the company told FOLIO: the magazine was still in "development stages" under the management of Alyce Alston and Emerging Businesses. The title's fourth and final print issue will be its Christmas issue which is due to hit newsstands later this month.
RDA said it will host the magazine's Web site through the first quarter of 2010. Deborah Caldwell will continue to serve as Web editor through the transition, an RDA spokesperson told FOLIO:. RDA's involvement with the site after the first quarter next year remains unknown, he said.
Frank Lalli, who served as editor-in-chief of the print edition, left the company last month after closing the Christmas edition, the spokesperson said.
"Our biggest discovery was learning that people prefer reading our content online rather than in print, because it is more convenient and accessible," Warren said in a statement. "And, from our viewpoint, an online magazine allows us to minister to people internationally; provide more content and features than we could fit in a print magazine; create interaction and two-way dialogue; and offer it for free."
When RDA announced the launch late last year, it called the agreement one of the company's "most important and far-reaching ventures ever." The original agreement called for a quarterly magazine and various multimedia offerings—including a social network—all aimed at Warren's Christian audience. Shortly after, the company announced the launches of Fresh Home and Best You magazines. Best You was approved this summer for a formal launch scheduled for March 2010. Fresh Home is still in development stages.
RDA is offering to refund unused print subscriptions to the magazine, the company said.