After Delays, Plastic Logic Kills Que E-Reader

Company is revising product strategy to develop 'second-generation' device.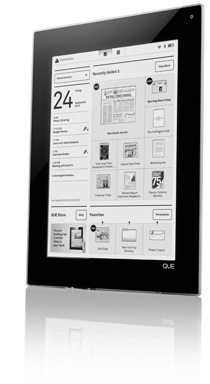 In a growing and increasingly competitive market, one e-reader device maker is feeling the heat. After delaying the release of its Que ProReader twice this year, Mountain View, California-based Plastic Logic has pulled the plug on the device altogether.
"We recognize the market has dramatically changed, and with the product delays we have experienced, it no longer make sense for us to move forward with our first generation electronic reading product," Plastic Logic CEO Richard Archuleta says in a statement posted to the company's Web site. "This was a hard decision, but is the best one for our company, our investors and our customers."
Archuleta says the company will take time to re-enter the market as it redesigns and retools for a "next generation" ProReader product. "We continue to perfect our core plastic electronic technology and manufacturing processes that are central to our product's unique value proposition," he says.
Plastic Logic announced its plan in 2008 to launch a thin, lightweight e-reading device. Unlike other similar devices, the ProReader was expected to target business users by supporting documents in Microsoft Word, Excel and Powerpoint formats as well as Adobe PDFs, along with newspapers, magazines and books.
The company officially debuted the Que reader at the Consumer Electronics Show in January and pegged a ship date of mid-April. By March, the company said it was pushing the release back to sometime this summer. The release was pushed back again in late June.
With an 8.5 X 11 inch touchscreen display, two models of the Que ProReader were marketed: a 4GB version for $649 and a 8GB/3G model for $799. It is not immediately clear if the Plastic Logic customers who pre-ordered the device over the last several months will be issued a refund. A Plastic Logic spokesperson did not immediately return an e-mail seeking comment.
Meet the Author
---