Adweek Scales Back Print Frequency

Nielsen launches major redesign of magazine, Web site.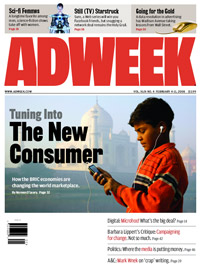 Nielsen Business Media this week unveiled a significant redesign of Adweek magazine and its accompanying Web site, Adweek.com.
As part of the relaunch, the company is scaling back the frequency of its 30-year-old print magazine, dropping from 47 issues per year to 36 (26 regular and 10 special issues).
"This is a rapidly changing industry and we are staying ahead of the marketplace by delivering the two things our audiences want and need: instant news and thoughtful opinion," Nielsen Business Media Group senior vice president of marketing and media Sabrina Crow tells FOLIO:.
With the print redesign, Adweek has been tweaked to have longer features, case studies and to cover "innovative ideas across all marketing disciplines," she says. "We moved from a vertical 'agency' book to a broader perspective with more in-depth analysis."
Nielsen plans also to offer a new series of Adweek conferences and events the company says are designed to facilitate dialogue and build community.
Adweek.com has been beefed up with additional video, user-generated content and exclusive Nielsen data from its consumer media tracker BuzzMetrics. "We are moving with our audience as they evolve and are maximizing the value we provide our community by delivering [online] content 24/7," Crow says.
Adweek's ad pages were down by nearly 100 in 2007 over 2006, the company says. Crow indicated that Nielsen has no plans to fold or relaunch Brandweek and Mediaweek as online only publications. Both Web sites will undergo redesigns in second quarter of 2008, she says.
Meet the Author
---