Advertorials Give New Life to Print

Magazines like Worth are seeing growth from advertorials.
Advertorials—the original "paid content"—are no stranger to magazines. Marketing that looks like content is always attractive to advertisers and as publishers agonize over plummeting print revenue and clients starting to do their own branded Webinars, events and even magazines, advertorials are a way to lure them back and even hit budget.
Reader's Digest Association's Taste of Home recently announced it will produce custom editorial columns that are more "synergistic" with advertisers' promotional goals. Taste of Home created custom in-book sections that feature branded recipe cards for client Jimmy Dean that run next to the magazine's own recipe cards section.
According to RDA's Taste of Home and Home & Garden Media Group vice president and publisher Lora Gier, these sections are clearly marked as advertising and all advertorial sections are "new pages" that don't take away from existing editorial pages.
"The conversations we have are very strategic versus just discussing demographics and rates," Gier says. "We are winning exclusive business through these partnerships."
Advertorials Without the "Advertising" Tag
However, other publishers are pushing the boundaries of advertorials. Worth, which was acquired by Sandow Media in 2008, has launched a comprehensive new advertorial program targeting personal wealth advisors.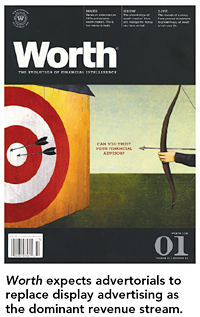 Worth charges financial advisors $2,495 per month or about $30,000 per year (the minimum commitment) to receive two-page profiles in six issues, free reprints, magazine subscriptions worth up to $11,000 for the advisor's clients and a hard cover book with advisor profiles.
However, Worth isn't labeling profiles as "advertising" but includes a sentence in the preamble of the profile section indicating that they are paid for.
"It's a brave new world of publishing and we're looking at a different business model," says Worth publisher Patrick Williams. "We are looking at a business model where 50 percent of our revenue will come from the brokers and wealth advisory committees, as well as attorneys who want an alterative way of reaching their clients."
Williams says the magazine vets all of its profiles through the Paladdin Registry, which tracks financial advisors, so it can back up what's said in the profiles. "One of our wealth advisors—who manages $1.1 billion—insists on 20 distinct touch points with his clients and now six or seven of his touch points are taken care of by the magazine," adds Williams.
A New Publisher/Client Dynamic
Internally, Worth has marketing managers who look after each client and Williams says selling and developing the profiles takes much longer than the process for selling a display ad. "We're almost in the business of marketing as well as advertising and magazine management," he adds. "We're bringing a whole new marketing set to the publishing business. The fact that we're a bi-monthly works out well."
Williams expects the advertorial program to account for 50 to 60 percent of the magazine's revenue in the near future, or $7 million to $8 million per year.
"We want to return to that time when other revenue streams were where publications made their money and display advertising was icing on the cake," says Williams. "We will work as hard as we can for national advertisers but we want to bring it back to the point where that is bonus time for me."
Of the 24 charter marketers in Worth's first advertorial, 21 were in the wealth management business while the rest were attorneys.
"We were expecting that most of them would have a good response to the marketing piece, but when I asked them how it was going, they cited the profiles as a direct driver of $51 million being moved into their portfolios," says Williams.
Meet the Author
---