Advertising Trends: A 'Tale of Two Cities'

Panelists attempt to decode complexities of media buying at minsider event.
Between programmatic buying, premium selling, the modernization of the banner ad, new opportunities on video, the explosion of native and a constant need to correctly measure and quantify online site traffic, advertising means and methods are only becoming increasingly complex.
At min's "minsider" Wednesday breakfast, Tessa Gould, director of Huffington Post Partner Studio, and Forbes' chief revenue officer Mark Howard joined 360i group media director Jessica Sanfilippo, Business Insider chief revenue officer Pete Spande and Paul Wenz, general manger and vice president of sales at RocketFuel, to talk about the specific, actionable takeaways to adapting to the latest methods of cross-platform ad selling.
"The 'native' buzzword didn't event start until last year," says Howard. "What we really needed to do was fill out a non-banner based premium business."
With native and programmatic overtaking most of the conversation, it's still worth noting that display advertising continues to grow despite being considered by many as lacking.
"Combining display with native can use programmatic to drive attention," says Wenz, "but brand lift metrics and other capabilities can measure the influence and KPI metrics your advertisers are looking for."
In addition to the native and programmatic talk, video is the latest fast-emerging ad platform to watch out for in 2014.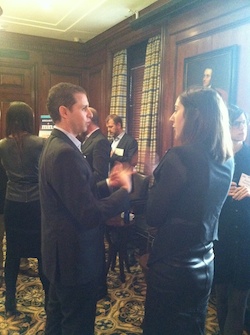 "It's a huge opportunity [for brands]," says Howard. "We get asked for it all the time and we just can't provide enough."
Forbes' approach is self-described as "entrepreneurial" and focused on an archival content strategy.
"Each client has a different appetite. We're rethinking the distribution of the same video content on each platform with tailored needs," Howard says. "There are no shortage of ad units available to you."
However, not all video tactics best serve the audience, so it is imperative to maintain a strong brand DNA, says Spande.
"Our first forays into video were basically bad CNBC," says Spande. "We've largely abandoned previous ideas [and] instead work on stories that need to be seen and heard, rather than read."
For 360i, a lot of video is a creative branded experience.
"Video isn't a direct fit for direct response right now," says Sanfilippo. "There are partners of ours that are beginning to integrate programmatic tactics with TV, but with our clients on the whole the demand isn't really there. In the private market place we have more of an appetite."
Gould says that the Huffington Post's gambit is still to maintain the creative while scaling across all platforms by bundling services for clients and partners in an effort to hit many touch points.
"Buying and selling mobile inventory separately devalues it," Gould
says. "Brands should make buying decisions based on where the eyeballs
are, not based on the pixel size of their banner. Our consumers are
cross-screen and thus we take the approach that our native campaigns
should be too."
It may be best to approach this new advertising environment by separating it from the traditional advertising scheme entirely.
"We believe that the Web is as different from print as print is from TV," says Wenz. "We're starting to understand how brands connect with their customers [and] it's a tale of two cities. On one side is programmatic and on the other end is a highly customized bespoke system for our clients. That's what's keeping me busy."
Meet the Author
---