ADVERTISING SALESPERSON, ACCOUNT EXECUTIVE OR CATEGORY MANAGER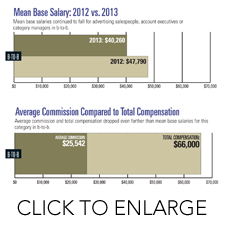 Like ad sales or regional managers, salaries for advertising salespeople, account executives or category managers fell last year—they didn't bounce back for this segment in 2013 though.
In fact, mean base salaries continued to drop in b-to-b, going from $47,790 to $40,260. Commissions were cut even more steeply, going from $41,670 to $25,542—a 38 percent decrease. Total compensation fell to $66,000 from $90,000 in 2012.
Not enough usable responses were collected to make year-to-year comparisons for consumer or association ad salespeople, account execs or category managers.
Small sample sizes make category comparisons difficult for 2013 alone, but several saw decreases when compared to 2012. Males, those working for two or more publications and those working for companies with less than $10 million in revenue had pay reduced.
Meanwhile, compensation increased for college graduates, those who have been in their current position for 3-9 years, those who do not supervise any other employees and those whose publications generate less than $3 million in revenue.
Meet the Author
---