The past few years have been challenging in the world of advertising. First came the decline of print, with "digital dimes" replacing lost print dollars.
Then programmatic buying turned inventory into a cheap commodity. The "viewability" debate stole another chunk, and ad blocking is an emerging challenge. The rise of social, mobile, video and native atomized audiences and changed the rules of the game again and again. And then there's whatever happens next. And all this is happening in a market where just two companies—Google and Facebook—now grab more than $60 billion in annual U.S. advertising revenue, which by some accounts is more than the magazine and newspaper industries combined. So what's going on here—and what's the long-term outlook? We see at least five powerful trends in play:
• Traditional magazine advertising worked because of supply and demand. Advertisers needed prospects, and magazine companies owned audience. The emergence of digital media changed all that. Now media brands have proliferated, audiences have fractured and advertisers have many alternate ways to reach people.
• Programmatic technologized a sales process that had been built on face-to-face calls, driving down prices and diminishing the power of individual brands.
• Advertisers now buy targeted slices of audience across thousands of websites, including many non-media sites, leaving media companies with less leverage.
• Content marketing made it possible for brands to find and communicate with prospects directly, sometimes without the media at all.
• Most threatening, the entire industry is increasingly driven by technology, and magazine companies have often been a step behind their digital competitors in mastering change. That's one reason Google, Facebook, and eight other Internet companies plus a host of ad-tech middlemen claim over 75 cents of each dollar spent on digital advertising.
To dig deeper into these trends, Folio: interviewed 18 key players in magazine-media advertising today. On the publisher side, they included 11 senior executives at nine publishing companies: Atlantic Media, ESPN, Forbes, IBT, IDG, New York, Rodale, TEN and Time Inc. We also spoke to people from three ad agencies (SMG Global, Carat, GroupM), two digital scorekeepers (com- Score & eMarketer), plus a leading consultant who has one of the industry's best-known sales rep firms.
Our research turned up something important: Even with the decline in print, magazine media—that is, brands with multiple channels—are holding their own or even growing advertising despite the tough climate. They are getting out in front of each new digital challenge. And by doing so, they have turned what might have been an "ad-pocalypse" into a new sales opportunity for ad-driven brands.
"The ground shifts under our feet every few months, but we'll be up more than 20 percent in overall ad revenue this year," says Bob Cohn, co-president and COO at The Atlantic. "It's a challenging market," agrees SVP/Group Publisher Chris Lambiase of Rodale, home to Men's Health, Prevention and others. But Rodale is seeing gains in both print and digital this year, he says, "so we've been able to defy gravity."
If those guys make it sound easy, don't be fooled. But understanding their strategies may offer a clue to solving your own ad challenges. So here are eight of the biggest obstacles they encountered— and how they are solving them.
THE RISE OF PROGRAMMATIC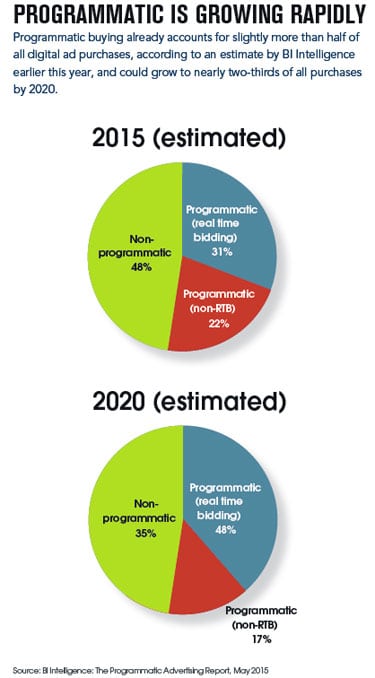 Like the illegitimate son Jon Snow in Game of Thrones, programmatic advertising has been unfairly tainted by the circumstances of its birth.
The system—basically a software platform to enable ad delivery according to precise demographics, geography, buying or shopping patterns, and more—was originally devised to sell low-value inventory, using real-time bidding to fill ad slots that would otherwise go empty. CPMs were dreadful. But so was the quality of the inventory that unscrupulous Web sites dumped into the system, which is turning out to be a good thing for quality publishers like magazine media.
"You can still buy cheap, obviously," says Mac Delaney, SVP for Programmatic at SMG Global, "but cheap inventory is a dangerous, poorly-lit place right now." Quality advertisers got tired of seeing their ads on trashy or inappropriate sites, and paying for fraudulent robotic "impressions."
As a result, programmatic is starting to evolve mechanisms for buying premium inventory, which commands a better price. "CMOs want a quality audience, and we are the ultra-premium network. Programmatic is just an efficient way to buy inventory," says Mark Ford, EVP of global advertising for Time Inc., where digital audience has grown over 30 percent in the past year to 120 million monthly uniques, nearly one-third of whom are millennials. "That's why programmatic has increased our ad rates, not decreased them," adds SVP Andy Blau, who oversees Time Inc.'s digital ad strategy.
Like most companies, Time Inc. still sells many of the highest priced slots on People, Time, Money and other titles directly, using a feet-on-the-street sales force. But reps are trained to use the company's programmatic system, where rate card CPMs range from $6 to $35, so they can teach it to agencies or advertisers. And they are rewarded no matter which way a customer buys. "Currently, programmatic represents around 20 percent of digital revenues," says Blau, "but it's expected to exceed 50 percent in the next two years."
At Forbes, even direct-sold inventory is exposed to programmatic bidders. "If you buy directly, we make sure you get everything you contracted for," explains chief marketing officer Tom Davis. "But for any given pageview, if a programmatic buyer bids a higher price, they win. That keeps our programmatic CPMs in the double digits, not dollars or pennies." Davis says Forbes now derives about 70 percent of ad revenue from digital, versus 30 percent from print, and that about one-third of the digital buys are through programmatic. Programmatic has grown so fast—it will account for an estimated 53 percent of all digital ad buys this year, and could hit 65 percent by 2020—that skilled developers, managers and operators are in high demand.
The technology, too, is expensive, which is why Time Inc., Forbes and most brands use partners to power their systems—although at least one company, IDG, built much of its ad platform from the ground up. The IDG Tech Media Exchange enables programmatic trading and targeting across the company's worldwide network of sites plus some 500 non-IDG partners. "We are now the only global exchange serving high-tech media," says Michael Friedenberg, CEO of IDG Communications, which publishes titles like Computerworld, Network World and PC World. "It's all a matter of being ahead of the marketplace." Digital now accounts for about 75 percent of the company's ad revenue, compared to 18 percent for events and just 7 percent from print.
To keep digital CPMs high, publishers follow some or all of these strategies:
• Set up a private marketplace, so you have greater control over the range of bidders and auction rules.
• Include your best inventory, not just junk, but set a minimum price.
• Use discounts to reward repeat buyers and long-term orders.
• Incent your salespeople too, so they will proselytize for the system. Personal relationships remain the cornerstone of successful ad sales, even in the programmatic world.
• If you must dump unsold inventory on the open markets, make sure the sales are "blind"—so the buyers never know they got your site so cheaply.
Not that programmatic is perfect. The platforms are still improving, and the move towards premium has only begun—so direct sold inventory is still more profitable and probably will remain so.
But the trend is positive, with effective CPMs climbing 31 percent for programmatic-sold display ads this year and 141 percent for social ads, according to platform provider Turn. "Advertisers like the control and flexibility of programmatic, but they also want quality," observes Eric Johnson, EVP of global multimedia sales at ESPN, which now offers not only digital inventory but also spots on its popular SportsCenter newscast to programmatic buyers. "So we bring the best of both worlds together."
AD FRAUD AND AD BLOCKING
Like programmatic, fraud poses a short-term challenge, but it could work to publishers' advantage in the long run. How bad is the problem? ComScore tracked 100 digital ad campaigns earlier this year and found non-human traffic (NHT)—that is, ads served to robots posing as people—accounted for nearly one-third of all impressions in the worst 7 percent of them.
The good news: four-fifths of the campaigns were pretty clean, with NHT rates under 5 percent. And quality sites tend to do well on these measures: comScore found the top 85 percent of digital publishers had NHT rates below that 5 percent mark. To keep those rates low, many publishers have installed technology to detect and prevent ads from going to non-human visitors.
User-installed ad blockers are a different story. Only about 16 percent of online Americans had them during the second quarter of this year, according to a recent report by PageFair, an ad-block detection vendor, and Adobe. But rates were higher in Europe, where 35 percent of Poles, 25 percent of Germans and 20 percent of U.K. residents had blockers (that U.K. figure was up 82 percent in the past year alone).
Many observers fear a similar steep adoption in the U.S. "People get angry because ads are wasting their battery life, or they don't like the privacy implications or intrusiveness, so they install an ad blocker and the publisher loses money," says Jason Kint, CEO of Digital Content Next, the association representing quality digital content sites. Indeed, the PageFair/Adobe study says U.S. websites forfeited over $5 billion in ad revenue in 2014 due to blockers. It expects that loss to double in 2015 and nearly double again next year.
The sad fact about ad blocking is that publishers, agencies and advertisers all have themselves partly to blame. For years, sites have loaded up on display units and rich media that eat bandwidth and slow loads. The resulting "bloat"—ads, analytical tags and other non-content items—can make up 90-95 percent of a page.
As for privacy, the media blog Monday Note surveyed 20 popular news sites' home pages in July and counted over 500 "trackers"—about 60 percent of them ad-related.
Most quality publishers have cleaned up their ad clutter in recent years, and a few use technology to defeat blockers or at least ask the person to allow ads for that site. But most are waiting to see what happens. "The open source coders who create these blockers figure out whatever trick you use and find a way around it," says one publisher, who asked not to be named. "So it's a cat-and-mouse game and we're not sure we want to be in that fight."
Moreover, unlike fraud, which can be controlled by individual sites, blockers are a collective problem. Your site can be totally clean, but your visitors still put in ad blockers because they got angry at the super-intrusive site down the road.
One troubling sign: Apple's IOS 9, which debuts this month, will make ad blocking even easier. "That scares the hell out of me," says another executive who requested anonymity, "because it augers a new era of acceptance for this stuff."
THE VIEWABILITY HURDLE
Aside from the headaches they pose individually, fraud and ad-blocking are intimately bound up with an even larger issue—viewability.
This statistic measures the percentage of ads that can actually be seen. It excludes any that fail to render fully, load somewhere out of sight, or otherwise don't constitute a "viewable" impression.
The concept has been around since at least 2010, but moved to the front burner when advertisers stopped paying for non-viewable impressions a couple of years ago.
Leading publishers got onto the problem early. "As a category-leading company, we make sure we're in line with Media Rating Council guidelines that call for at least 70 percent viewability," says IDG's Friedenberg. "But sooner rather than later, the market will rightfully demand 100 percent, and then we'll deliver on that requirement."
To ensure visibility, IDG built its proprietary content management system, Apollo, to "lazy load" ads, so that new units appear periodically as a visitor scrolls down a page. It also partnered with measurement vendors to be able to meet advertiser-specified benchmarks.
Other leading publishers have taken similar steps—"Quite frankly, viewability advises the design and direction of our websites," says Rodale's Lambiase—and the result has been better user experience and ad performance.
Trouble is, the industry has not yet agreed on a universal definition for viewability, so the same site can wind up with different scores depending on who's counting.
That problem, like fraud and ad blocking, is going to require a collective solution, SMG's Delaney argues. "We can't just dump our problem on the other guy," he says. "Fraud is not just the advertiser's problem, and ad blocking is not just the publisher's. We have to sit down together and reach consensus."
Don't expect viewability to be the last such hurdle you face, either. At best, it's a crude measure, says Andrew Lipsman, VP for marketing and insights at comScore, and says nothing about an ad's performance.
"In the early days of digital, we considered an ad effective if someone clicked on it. That was horribly inaccurate," says Lipsman. "The reality is, the one person in 1,000 who clicks on a display ad tends to be an unsophisticated user, not a buyer. So we need to measure the impact on the 999 other people who saw it. Did they have a higher awareness of the brand? Did they purchase it more?" Such studies are done, of course (including by comScore), but not routinely. Down the road, he predicts, they will be standard.
FEEDING THE DATA MONSTER
Search once for Pampers and diaper ads will chase you around the digital world for weeks‑not to mention promotions for cribs, baby carriages, and other infant gear.
This familiar experience is just one evidence of the most revolutionary change in today's ad ecosystem‑the vast information-gathering and real-time targeting system that has arisen to serve ads for things you might actually need.
To some extent, publishers have been willing victims of this transformation. By sprinkling their pages with trackers, they helped Google, Facebook and a host of digital middlemen know more about their visitors than they do‑since those companies follow people across thousands of sites, not just a few.
Publishers do get better targeting and higher CPMs as a result. But the IAB says fees collected by this ad-tech complex ate 55 cents of every programmatic ad dollar last year‑the "ad-tech tax," as it's called.
Publishers whose revenue model has been upended by such developments should remember they're not alone. "We read a lot about layoffs of reporters," says Jim Elliott, president of the James G. Elliott Co., a national advertising sales and consulting firm, "but there have been enormous layoffs at the ad agencies, too, in recent years." Even the ad-tech complex itself is due for a shake-out and consolidation at some point, most observers would agree.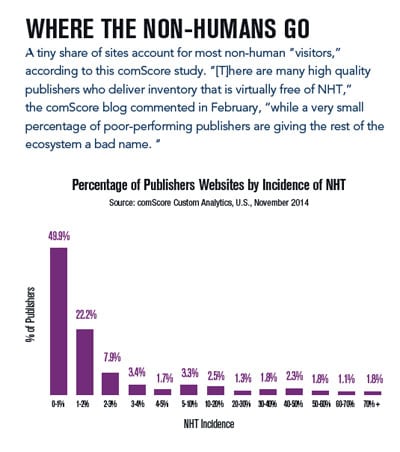 In the meantime, smart publishers are pro ting by feeding the market with their own, proprietary data—albeit with care.
Meredith, for example, combines its database of 100 million readers and 70 million monthly visitors with third-party data to improve ad targeting across a network that includes Be er Homes and Gardens, Martha Stewart Living and more. And at TEN: The Enthusiast Network, home to Motor Trend and nearly 60 other active-interest publications, "We've invested heavily in data and programmatic, using our rich first-party data to customize by target audience," says Eric Schwab, EVP for sales and marketing‑something the sales force emphasizes on calls.
TEN's sales team is divided into categories like action/outdoor, entertainment and home technology. The automobile sector is particularly rich, with special-interest categories like hot rods and "supersport" cars. "But everyone in our organization reps the whole company," Schwab says, which helps TEN go after non-endemic national advertisers like beverages or grooming products.
Like most of the strategies covered in this article, data wrangling takes talent. Meredith employs some 45 data scientists and analysts, for example, while Time Inc. recently hired a chief data officer to lead its data team.
But the key point is not to give away your data for free. Meredith's first-party information, for example, is available only to advertisers who buy directly or in the company's private marketplace. And Meredith and other publishers charge for data they use to meet the next market need on our list.
A CLOSER CONNECTION TO READERS
Magazine publishers have long sold "advertorials" and custom publishing, but today's market demands more. "We saw a pattern where advertisers wanted to more deeply connect with our audience of influentials," says Hayley Romer, VP and publisher of The Atlantic, "and we felt we had a unique ability to bring their stories to life and help them engage with our brand." The result was The Atlantic's Re:think, a creative studio that produces special packages like the one now rolling out in which three artists capture visions of technology's future in connection with Qualcomm's "Why Wait" campaign. Romer says Re:think assisted on 60 percent of all ad revenue last year, and may go higher this year.
Like The Atlantic, most companies have set up their own in-house production companies to create "native" content and offer marketing services that can rival those of a full-service agency. Time Inc.'s The Foundry—which recently moved from Manhattan to startup-friendly Brooklyn—employs 200 tech and 100 content people, and has authored several ad-driven sites like The Drive, which launches this month to serve auto enthusiasts. And TEN bought a multimedia studio that pumps out video and animations for its custom creations.
This broad acceptance of native pleases buyers like George Janson, managing partner and director of print at GroupM. "As the walls have crumbled between advertising and editorial, it's become possible to create a seamless experience where people don't stop and say, 'Oh, that's native advertising,' they just regard it as another piece of valuable content."
Forbes, a pioneer of this trend, takes integration to new levels with its BrandVoice program, which accounts for about 35 percent of all ad revenue and added its 100th customer this summer.
For a monthly fee, BrandVoice companies can post unlimited stories directly to the Forbes website, using the same tools and nearly the same format as editors. "They agree to write for the benefit of our shared audience, not just a product pitch," says Forbes' Davis. But the advertiser owns all ad slots on its pages, and stories are promoted in the same "new posts" and "most popular" lists as any article.
"When advertisers create good content," Davis explains, "readers vote with their eyeballs. So it's a totally different game from old traditional advertising."
DEMAND FOR LEADS AND MULTI-PLATFORM
B2B titles have a special revenue opportunity in identifying specific potential buyers for advertisers. "Demand generation at IDG is growing 25 percent year-over-year," says IDG's Friedenberg, "and advertisers are leaning on us to find marketing- or sales-qualified leads."
IDG identifies these people, among other ways, through its IDG Insider program, in which visitors register to get deeper access to the worldwide network of sites. "Every new name we collect can be monetized later when that person is ready to buy," Friedenberg says.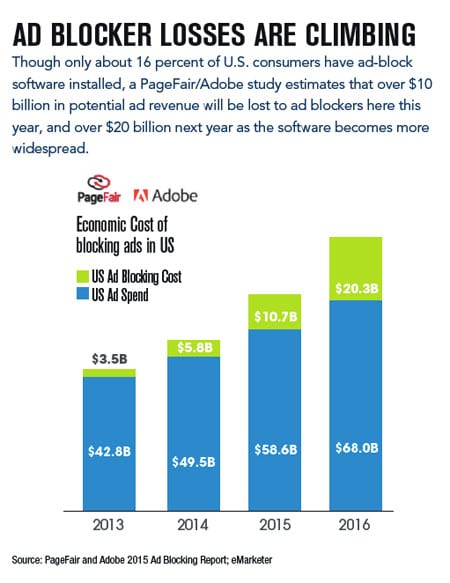 IDG also recently introduced the ABM360 service that predicts and identifies when companies are showing purchase intent and creates a "heat map" of decision-makers within the firm.
The result? Revenue from data and demand generation now surpasses that of digital display, print and events advertising. "That's the future of where media is going," Friedenberg says.
To make such programs work, it's critical to have a network of titles, media and platforms so that you reach readers anytime and anywhere they desire.
For big multi-brand companies like Time Inc. or Meredith, that's no problem. But even companies with roots in a single title have become networks these days. Atlantic Media, for example, includes The Atlantic, CityLab, Quartz and National Journal. New York Media has Vulture, The Cut, Grub Street, Daily Intelligencer and a half dozen others besides its flagship New York brand.
"There's this wonderful moment of experimentation by advertisers right now, and most of our ad buys are multi-platform, including print, digital, native, video, social or events," says Larry Burstein, New York Media publisher.
Social has become a critical platform in its own right, as publishers like IBT Media, which owns International Business Times, Newsweek and others, readily acknowledge. IBT recently hired a new chief marketing officer, agency veteran Mitchell Caplan, who—among other roles—will be driving the company's social outreach. "We already have Facebook, Twitter, Instagram and LinkedIn pages. Now we want to develop a social ecosystem around this world-class content, so people will engage with it, share it and keep coming back for more," Caplan says.
Finally, in addition to native content, many publishers have found it profitable to add sponsors to editorial projects they do anyway, like Women's Health's Next Fitness Star cover search and Men's Health's Next Top Trainer. "Sponsors get marquis positions in print and digitally and their messages are integrated into our social outreach and more," Rodale's Lambiase explains.
THE DECLINE OF PRINT
It's hard to get specifics on how much ad pages have fallen, since the Publishers Information Bureau stopped making numbers public. But circulation continues to slide—it was down 2.2 percent at midyear from 12 months earlier by the Alliance for Audited Media's count—and it's a safe bet that ad pages are down too, though individual titles buck the trend.
Yet publishers say print remains a key part of the mix, thanks to multi-platform sales. "It's a premium, lean-back medium where ads are less interruptive and readers have a deep level of engagement," says TEN's Schwab, though digital now makes up 30 to 40 percent of ad revenue.
But print is increasingly being held to the same standards of accountability that advertisers learned to love with digital. "We are always pushing our publishing partners to use more data‑their data as well as second- and third-party data‑and be more audience-focused," says Ginger Taylor-White, EVP and managing director at Amplifi US, who manages print buys for Carat and Dentsu Aegis Network clients.
Publishers have responded by adding digital tools to print. Time Inc., for instance, now sells print pages through its programmatic ad system. Buyers can choose from 12 different audience segments across 18 U.S. print titles, and Time Inc. uses proprietary data to place the ads.
Meredith, meanwhile, measures the actual return-on-investment of print and digital ads with its Meredith Sales Guarantee. Last year, advertisers in the two-year-old program reaped an average $7.45 sales lift for every $1 spent with Meredith magazines and $7.35 with Meredith Digital, the company says, compared to an ROI of only $2-3 for a typical digital portal or ad network campaign.
CONFRONTING THE DIGITAL GIANTS
The biggest underlying problem for publishers is the same faced by every digital content creator—competition from Facebook, Google and the like. That's why publishers take note whenever these behemoths let them in the tent. Apple lined up about 50 launch partners for its Apple News, a Flipboard-like product that debuts this month. And Facebook had nine publishers on board when it rolled out Instant Articles in May.
While the programs are similar in some ways‑both let publishers sell ads on their pages and keep the revenue‑they differ sharply in others. By promoting Apple News on the IOS 9 home menu, Apple could bring partners inventory they might not otherwise have had. But Facebook's product‑on mobile platforms at least‑actually intercepts a click that might have gone to the publisher's site. That makes for a better user experience (articles load faster) but could hurt titles that depend on digital subscriptions (see "New Rules of Paid Content," Folio:, July/August).
Nevertheless, many publishers—including The Atlantic, ESPN, New York, Rodale and Time Inc. among our interviewees—are happily going along. "The hope is that Apple and Facebook will bring incremental audience and net new revenue," says Cohn at The Atlantic, which is a partner for both programs, "so it was not a hard decision."
In addition to the many strategies listed above, there were two additional strategies that every sales executive we spoke to endorsed.
The first is that you must start with superior content. Says Burstein at New York: "Great content builds a loyal and responsive audience, which will respond to advertising too."
The second is that to survive in this fast-changing world, you must embrace new technologies—not fight them—and fast. "Being ahead of the market is everything," as ESPN's Johnson put it. Granted, that takes investment‑in people, technology, strategy and process.
But the reward, as many of these companies have shown, is steady or even growing ad revenue that strengthens your brand as the longer-term trends shift to favor quality content.