The economy may be taking a toll on magazine advertising in general, but advertisers are beginning to show an interest in digital editions. They see the value and excitement of rich media ads, and the extraordinary measurability of e-media, and want to pull out all the stops. And they're excited about the possibility of contextual advertising and serving relevant ads based on end-user reading preferences.
During the last six months, we've seen more and more publisher clients with a really strong interest in using digital delivery for its ability to add special advertiser features," says Trish Connelley, CEO of Advanced Publishing. "They're using the power of the digital medium to enhance the opportunities and the value that they can provide to advertisers. Many are creating hybrid media kits to highlight all the extra features that their digital edition can provide and to price digital within the overall offerings. So that's a key evolution that we expected to happen, but it's really becoming very pronounced in recent months." Almost as importantly, agencies are starting to realize that digital advertising presents new opportunities for them to participate, as well.
For the most part, though, publishers with both print and digital editions still sell ad space as a package deal, with a premium of 10-15 percent for the digital buy. The incremental amount is so small that most print advertisers say, "Sure, throw it in."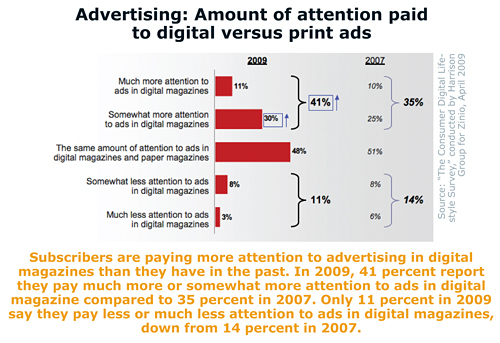 Pay for Play
Sometimes publishers will not activate links in an ad unless the advertiser pays the added price for the digital buy; non-paid ads appear flat. That's the Interference Technology model. All ads appear in both formats, but to activate links and participate in the search capability (very valuable in a 300-page book) that is available in the digital edition, print advertisers must pay a 12 percent premium. Currently, more than two-thirds of the advertisers buy the package. In fact, digital sales for the title grew to about $160,000 in 2008, up 7 percent over 2007.
Getting ad salespeople to focus on digital-edition enhancements and sponsorships continues to be a struggle for many publishers, although that's also improving as salespeople become increasingly involved in selling online inventory and sponsorships. Even so, selling effective digital ad space requires an understanding of the specific technology and features available to advertisers in the digital edition. The advertising revenue for digital space is significant only when the advertiser enriches its ad with premium video, audio, animation, and other attention-getting devices or useful features.
Selling Space
Selling sponsored or premium space in a digital edition is an opportunity, as well. Advertisers "sponsor" section tabs on the digital issues of Interference Technology, for example; for one issue that doubles as a show guide, the publisher sold an interactive cover flap to one advertiser. And for Olive Software clients, and perhaps others, the landing page of the digital edition (opposite the front cover) is customizable real estate that is available for premium advertising or for cross-promotion to the dot.com side.  
Incorporating IAB standards
Digital magazine providers are now incorporating International Advertising Bureau-standard ads that publishers also use on their Web sites so that third-party reporting services can accurately and reliably measure the exact number of people who saw the digital ad, how much time they spent on the page, and whether they clicked through. "Publishers have had some difficulty communicating their digital programs to advertisers," says Texterity's Cimarron Buser. "These metrics should help bring digital advertising in line with other sales activities. They'll show that ads in digital editions are working well and demonstrate to advertisers how they can expand their reach."
Also, the IAB-standard ads can be integrated with a subscriber database so that pertinent advertising can be delivered to a specific subscriber reading the digital magazine. By factoring in the content and the reader's demographic data, two different people reading the same article could be served a slightly different ad. B-to-b readers might receive an ad featuring a relevant product along with a lead-generation form.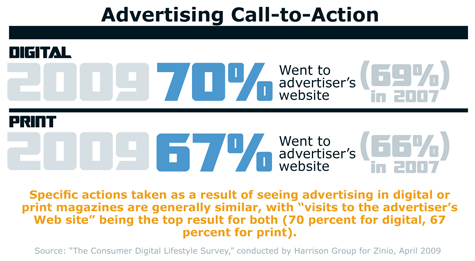 BoatUS (Digital) Helps Small Advertisers
BoatUS magazine, a bimonthly association publication, sells advertising on six or eight platforms, one of which is its digital edition. Ads appearing in the print edition automatically appear in the digital edition, and any links included in the ad text then become live.
The digital edition primarily provides an alternative for advertisers who want exposure to the group's members but can't afford to buy print space. 'With 600,000 members, our circulation is three to five times larger than that of the next boating publication," Michael Vatalaro, editor, explains. "Even a low CPM would be relatively expensive in the boating world. So simply by being giant, we're expensive."
Small advertisers—or, for that matter, any advertiser—can buy affordable, digital-only space, but only on a full-page basis, because that's easiest to accomplish from a production standpoint. Prices are commensurate with the publication's CPM relative to expected circulation. If the advertiser wants to add rich media (e.g., animation, audio, or a demonstration video) to give the ad a little more punch, BoatUS charges a small incremental increase in price—maybe $350 to $500, depending on the insertion. "On a full-page ad, that's practically unnoticeable," says Vatalaro.
"We do see good reader engagement with the digital editions," he adds. "The click-through rates are much higher than on our Web site, so we're creating better relationships with our advertisers and giving them good numbers. And by switching a small portion of the membership to a digital-only format, we're pretty much cost-neutral with our digital edition at this point. So the additional ad revenue is very good news."
Maximizing Lead Generation
Most full-service providers offer some type of lead-generation tool as an option.
Nxtbook Media promotes its AdGen service, for example, which is what Marcus Grimm calls "an elegant way" to put a reader-response card right on the page of the digital magazine.
The reader can fill in the form and immediately send it directly to the advertiser, completely bypassing the need to link to the advertiser's Web site and negotiate the company's sales funnel.
"Publishers sometimes think that advertisers want people to go to their Web sites," says Grimm, "because publishers want readers to go to their own Web sites. The reality is, the advertisers just want leads. And they want them as quickly as possible. If that can be accomplished right in the ad, that works best."
ITEM Publications' Interference Technology, a Nxtbook client, sends a cumulative report to advertisers at the end of each month for each edition in which their ad appears. The report lists company Web addresses of the individuals (not their names) who have clicked on their ad.
Lead Generation
Taking lead generation a step further, last year Interference Technology introduced an enhancement—for readers and advertisers alike—called "The red box tool."
A good-size red box now appears on every ad; by simply clicking it, the reader can request more information. Since the readers are logged in, the system can tell who they are, their company name, their e-mail address, and the product they're viewing. Clicking the red box sends an automatic e-mail to the advertiser with the reader's e-mail address, the ad and product being viewed, the page and edition of the magazine—all the information the sales manager needs to respond.
"It's a two-step process," says ITEM's Graham Kilshaw. "When readers click on the red box, they get a message that says we're going to send an e-mail to the advertiser, who will reply directly. They can back out if they wish. But there's no registration, no fields to fill in, no e-mail to send. At the end of the day, I believe the publisher's job is to connect buyers and suppliers. If we keep that in focus, everything else falls in place."