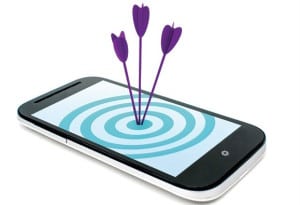 Advertisers are embracing programmatic advertising in all of its forms, budgeting more for it, exploring new media platforms and applications, and strategizing ways to extract more value from its use.
That's the upshot of a new study by programmatic advertising company AdRoll.
Billed as a state-of-the-industry status update on how marketers are employing "retargeting, programmatic advertising, and performance marketing," the study is based on a survey of more than 1,000 advertising and marketing executives, designed to assess how companies are thinking about—and adapting to—all of the new opportunities afforded by programmatic advertising.
It finds that programmatic ad buying is consuming an ever larger share of ad budgets. In 2015, 32 percent of marketers were using it to place more than half of their ad budgets. That's up from 14 percent in 2014 and seven percent in 2013. One-third of marketers say they're spending more than half of their total ad budget on programmatic. Two-thirds said they expect to increase their programmatic buying this year.
Programmatic's reach is expanding, too. One-third said they're using it for mobile buys; 25 percent for television; and one-fifth for video. And for B2C advertisers, programmatic guides ever more social media placement; it's now 50 percent more popular than programmatic display ads.
In his discussion of the findings, Adam Berke, AdRoll president and CMO, said, "Many marketers are starting to consider the retargeting potential of other platforms, particularly those with massive, built-in audiences who've shown plenty of shopping and sharing intent."
The study also found that advertisers are looking for new ways to employ retargeting. It's made the biggest inroads on mobile and social media platforms, but the study reveals marketers are eager to see how it can be leveraged more broadly.
When it comes to mobile retargeting, 87 percent said they planned to increase that investment in 2016. Of those who aren't currently doing it, almost two-thirds said it was because they don't have either a mobile app or mobile site.
Leading performance indicators for mobile retargeting are an increase in conversions, an increase in app installs, and an increase in overall reach. The biggest challenges were deemed to be lack of attribution transparency, users not converting on mobile, and a lack of analytics tools.
The study also explored the current thinking around e-mail marketing. It's still a popular channel among both B2C and B2B marketers. Fifty-eight percent say engagement is their primary aim with e-mail, while 40 percent use it for loyalty campaigns. Engagement, open rate, and direct revenue generated were the leading gauges for e-mail success.
Meanwhile, marketers seem to be getting their heads around the complexities of programmatic's attribution component. The survey found 84 percent find it critical or very important to marketing success, up from 35 percent in 2014. But, says Berke, "The right way to approach attribution is becoming increasingly complex."
This year's survey found almost 40 percent of marketers were tracking campaigns using an attribution model with multiple touch points. That's up from 24 percent in AdRoll's survey last year. Marketers are also expressing more confidence in their understanding of it; just seven percent reported feeling unsure about how to approach attribution, down from 16 percent a year ago.
Digging deeper, the survey found a 107 percent increase in the number of marketers attributing more than 75 percent of conversions to view-throughs for online display campaigns.
"Marketers are recognizing the importance of VTCs," Berke writes, but "still, there are areas of attribution that need more attention, such as viewability tracking and attribution of multiple touches."
Taking a big-picture look at advertising and marketing, the survey found executives are spreading their bets and paying close attention to how to allocate their budgets along the customer life cycle.
Overall, it found that one-third of an ad budget is earmarked for prospecting for new leads, and another third goes into the conversion effort. After that, the budget goes to activating or upselling, and retaining and driving loyalty.
When it comes to acquiring new customers, almost half the executives said paid social media is the top-performing channel. But programmatic displays ads were cited by one-third as a good way to acquire customers.