THE IPAD IS NOT just perceived as a game-changer in the computer and electronics world; it's already affecting magazine production.
"There's a general feeling on the consumer side that the iPad will become the savior of magazine publishers," says Bill Walker, CEO of Superior Media Solutions, a production services company. "Publishers have got to do things that are richer, more dynamic and interactive, not just transfer a static page from print to digital."
In fact, these days magazine publishing and production can be boiled down simply to: things you can put on an iPad and things you can't, says Steve Grande, VP of sales for Fry Communications. And that's really what magazine production is all about right now: streamlining workflows and content for print and digital distribution.
"What you're seeing is a convergence of print and digital, and publishers are looking very strategically at organizational structures," says Rob Brai, co-founder of SMS and former production director for print products at Northstar Travel Media LLC. "In most cases you find separate print and digital operations. The main point is to create a single stream of operations, removing the silos of print and digital. The advent of XML is neutralizing content and putting it in a form to use for print and digital."
Any time you're considering assets and content management services, an XML workflow and proper tagging at the onset is critical, Grande says. "Content portability, mapping content to various displays, having an XML format for that is critical as well," he says.  "It gives you the immediate ability to recast that data in various display formats as well as take that information and merge and purge them with other items."
At SMS, all content is automatically converted to XML. Ad files and images get processed and converted to a Web-friendly format as RGB jpegs. And all content is repurposed to prepare to use for digital products," Brai says.
The production services company allows users to continue to use their own workflow systems, such as InDesign or InCopy, and provides a transparent work environment. Publishers can drop in and check on the work in progress through a Web browser, compared to the old style of finishing something and dropping it off before you could see it, says Sina Adibi, CTO at SMS.
Standardizing content to XML is a major undertaking for any publisher, Adibi says. He notes that maintaining content in XML can be a bit of a "nightmare" for publishers as new formats emerge and publishers think about archives and how to migrate them forward.
The XML conversion is one of the advantages to outsourcing production. Also, publishers don't need to make all of the capital expenses necessary to stay up to date with workflows and technology, Walker says. "It's gotten to the point in technology on the print side and on the digital side and the content side, whether Web site, newsletter, iPad or iPhone, that publishers don't need to own their own technology," he says. "We combine the best technology with the best people and introduce best practices so publishers end up with a variable cost model and they save money."
Questex Media Group LLC, publisher of such titles as American Spa, Hotel Design and Golfdom, recently chose SMS to handle the digital pre-press and production of its 31 publications and directories. As part of the agreement, 15 Questex production employees will transfer to SMS' Duluth, Minn., office and continue to work on the Questex titles, for six months and possibly longer.
"The workflow we are adopting gives the Questex teams great flexibility as it combines the openness of an XML-based content management system and extensive integration into our current Adobe InDesign tool set," says Tony D'Avino, executive vice president of Questex. The publisher anticipates savings in the 20 percent range from the current costs associated with its in-house production services.
Fry Communications also offers production outsourcing capabilities to publishers via several shared services, from production and editorial workflows to digital asset management and an ad portal. "For a publisher, you can offer this expertise and resource that's a composite of a lot of skills," Grande says. "Look at economies of scale and operating infrastructures—our goal is to do it at 10 percent or better below what it would be if you maintained your own service."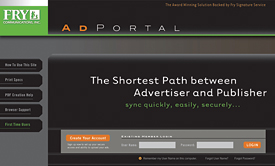 Ad Portals
Fry's ad portal, Fry ReADy Ad Portal 2.0, a publisher-branded ad submission site, is another way the printer helps publishers achieve cost savings and efficiencies. Most major printers these days have an ad portal or are developing one. "The ad portal provides a stable, tolerant and secure storage of advertising assets as well as a streamlined workflow and an inline proofing system," Grande says.
The way it works is an advertiser can receive an invitation to the portal or go to the Web site, click on the link and deposit an ad. It brings them to a window where they plug in the ad. A salesperson will get a pass/fail confirmation and if the ad failed to go through, the advertiser will get a call from the salesperson.
The other scenario is a publisher does all of that for the advertiser, uploading the ad onto the system, etc., Grande says. Fry has transacted more than 260,000 ads in its ad portal and roughly 20 percent are destined for multiple publications as part of a multi-title ad buy.
Time Inc. uses a third-party ad portal, Blanchard Systems' SendMyAd.com. "We have found many benefits to using a portal—from capturing critical data about the ads that drives our production systems to the automated quality checking that delivers only those ads that are ready for print," says Peter Meirs, VP of production technologies at Time Inc. "Better yet, the portal is a service to advertisers, who can extend deadlines and save on shipping costs when using the Web-based portal."
"Most ad portals do a good job of automating the processing of ads (job ticket, preflight, soft proof and PDF processing). The advantages are consistent advertising files and a reduction of manual labor," Brai says. "The challenge is getting advertisers to use your portal. You can have a great portal but it's not productive if no one's using it."
Brai adds that the best ad portals allow users to send e-mail messages to advertisers with links to the portal at certain intervals to improve adoption. SMS does not currently support an ad system but is looking into developing one in the near future.
To Proof or Not to Proof
Perhaps one of the best ways production teams can streamline efforts is through virtual or soft proofing. By proofing pages over the Internet and collaborating in a common environment, publishers can save time and money by not having to move files back and forth. "You have the option of downloading a PDF of a page, you can look into the layout of any magazine or you can get into the InDesign file," Brai says.
There's been some talk in the industry for a while now that proofing—in some cases—may disappear altogether. "Hard proofs will go the way of film—they will disappear except for high-end products in the fashion and beauty world," says Brai, who stopped sending proofs three years ago at Northstar.
SMS client Questex has given its business teams the flexibility to proof based on market sensitivity, D'Avino says. "As an example, we still rely heavily on hard copy in our Beauty & Wellness market," he says.
"There's always going to be a need to verify the color and accuracy of page creation but the stand-alone proof is headed for the scrap heap," Meirs says. "Using monitors for that process has major advantages and is the norm for all of our print advertising production. Print-by-numbers is really more about replacing the proof at the press once the color has been established."
When implemented correctly, the G7 calibration method for print can eliminate the need for visual proofs of any type, Meirs says. "This emerging method of measurement eliminates all subjective criteria for color reproduction by using CMYK+RGB color to achieve gray-scale balance," he adds. "This yields highly consistent output to any CMYK imaging device or press."
Fry, which has virtual proofing on every color press it operates, does soft proofing about 70 percent of the time, Grande says. It also does print to numbers on a regular basis as well as checking solid ink densities, midtone value and gray balance and G7 calibration for several weekly publications that it prints. Fry's print-to-numbers operations are, in fact, the reference standard for one publisher  for other printing plants, Grande says. "A linear calibration workflow is important in a single print site operation as well as  multi-print site operations," he says. Print to numbers is so important because "it's normalizing the data and reproduction characteristics in repeatable fashion. It's also incredibly efficient. We can move from press to press and move proofs over from one press to another."
Grande explains that the technology is such that the information contained in a virtual proof is integrated into closed-proof technology and the information in the proof is what the press is printing to. "It's very much a linear process. If I'm seeing a green Volkswagen on screen, that green one will be the same as printing on an HP color printer or a sheet-fed press—they all have a known characteristic for color identification that will have to reproduce a certain way due to characteristics of that device," he says. "We'll have a picture on the press-side monitor where the press operator holds the print out up to the monitor and it looks the same."
Grande doesn't see proofing going away anytime soon because there's still a level of craftsmanship involved. "I'm amazed to see what comes off without human intervention, but it's those final little tweaks that make it spectacular," he says. "I couldn't see the industry moving away from proofs."
The next level of printing will be defect reduction because despite having full-time, on-board camera inspection with various controls and high-speed cameras on press and at binders, there are still defects in the printed product that just go by too fast to be caught.
Meanwhile, that which can't be put on a digital device—the printed page—is getting more high-end with specialty printing: foil, embossing, high-UV coating and other print gimmicks. Publishers will be looking for a boost in newsstand sales and attaching a premium to printed magazines. "For things that have physical presence—magazines, direct mail —the value of those will become more enhanced and will become more entrenched," Grande says. "It will be very dear to get those things. So when you get a hard-copy magazine, it will have a perceived value."