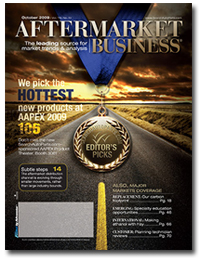 Trade publisher Advanstar Communications has decided to fold the print edition of auto title Aftermarket Business. The December issue will be its last.
Starting in January, Advanstar instead will publish a monthly digital version of the 73-year-old magazine as well as twice-weekly e-newsletters.
Going all-digital is a "more efficient and timely method of reaching buyers and sellers in distribution," Advanstar vice president and Automotive Group general manager Jim Savas told FOLIO:. "Our audience is less reliant today on old media in a monthly print format. They're reacting to news much quicker. This is another evolution in the way we want to help our advertisers communicate to the distribution audience."
The print edition of Aftermarket Business carried a monthly circulation of 20,000. The digital version will be e-mailed to more than 140,000 "decision makers and influencers" in the auto distribution market, the company said.
Advanstar partnered with digital vendor Nxtbook Media to develop the magazine's digital format. "Print magazines don't inherently translate well to a comp screen," Savas said. "So, instead of having a 150-page magazine replicated for the Web, we'll produce a 15-, 16-page e-magazine in rectangular format that's easy to read on a computer screen."
While he declined offer a specific amount, Savas said transitioning to digital will also save a significant amount of money in printing and distribution costs. "Like every other magazine, our revenue was declining in print," he said. "While it didn't get to the point where the magazine was losing money overall, we decided that a new strategy was in order."