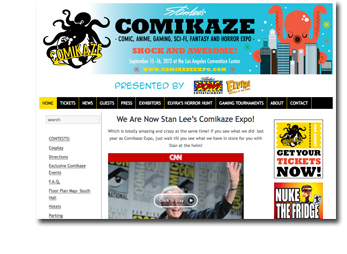 Advanstar Communications, a b-to-b media company and event organizer in the fashion, powersports, licensing and dental markets, among others, has entered into the comics event market with through a strategic partnership with the year-old Stan Lee's Comikaze Expo Presented by POW! Entertainment (formerly Comikaze Expo).
Regina Carpinelli, CEO Comikaze Entertainment Inc., says she started Comikaze Expo after being denied entrance into San Diego Comic Con because she didn't have industry credentials. Comikaze, says Carpinelli, was started as more of a fan-based event.
Terms of the deal were not released.
UPDATE: After reaching Advanstar for comment, the company has clarified the deal as a strategic partnership, not an acquisition. Carpinelli has since backed off her earlier statements that characterized the partnership more like an acquisition.
The show's debut in November 2011 attracted about 40,000 attendees and 300 exhibitors. In early 2012, Stan Lee, co-creator of super heroes such as Spider-Man, the Hulk, X-Men and the Fantastic Four, and former president and chairman of Marvel Comics, took notice.
"When I first started Comikaze last year, I knew we needed to have Stan Lee as one of our guests," says Carpinelli. "As more hype built around the show, he became more interested. After the show happened, he called to congratulate me and he said he'd never been to a show like ours in the past 40 years. He asked if it would help to come on as an investor with his company POW! When Stan Lee asks something like that, you don't say no."
The deal with Advanstar, says Carpinelli came to fruition after Chris DeMoulin, Advanstar's executive vice president of fashion, president of MAGIC International and president of Licensing Expo, called Carpinelli to congratulate her after the first Comikaze Expo.
"I asked if they wanted to work with us in some way because the exhibitors at Licensing Expo would make a great addition (to Comikaze)," she says. "It was very casual, and then Stan Lee joined on with us. It started to become more of a reality, and now we're here today working with them. They liked our company, how different we are and that we're young, a little bit rock and roll and the fact that we're not a regular trade show. If Advanstar wanted to make a comic con, they could. But they like the personality of our convention."
For its first event, Comikaze Expo was produced by a staff of 5 individuals, including Carpinelli, at the Los Angeles Convention Center. Going forward, Advanstar will run the "back end," as Carpinelli puts it.
"Advanstar will do the set up, deal with the unions and convention center and the business side of things," she says. "We will focus on publicity and promotion. They will be contacting the vendors at Licensing Expo to see if they want to be part of our show because it is a good marriage. Those brands fit in with our base—the demographics of Stan Lee's Comikaze Expo is one of the most desirable in the world. We're all about our consumers, but we also want to help brands reach their target audiences. Advanstar has access to brands and people it would take us years to get ahold of."
The goal moving forward, she says, is to be one of the largest pop culture conventions in the world. The event planner estimates that the convention will draw over 100,000 attendees by 2013.
UPDATE: When reached by FOLIO:, DeMoulin, who would not disclose revenue or contract details of this new partnership, say Advanstar will help to assist Comikaze Expo in a logistical manner.
The entire Comikaze team will continue to work on the expo and Advanstar will be "working with them on strategies to grow the show; [and identify] where else around the world there are opportunities," says DeMoulin. "We'll be working with them to plan for future growth, looking at different ways to market them, and bringing in sponsors to make sure operations capabilities grow as quickly as the fans want it to grow."
DeMoulin adds that Advanstar looks at the Comikaze Expo as an opportunity to add a consumer compliment to its Licensing Expo, which works with many of the same entertainment companies.