Ads on Covers: Scholastic is Ad it Again

Cover-strip pushes ethics envelope, ASME's buttons.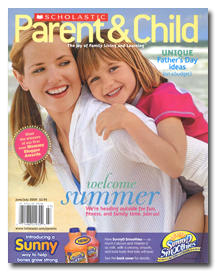 For our June issue's cover story—"The Great Cover Ad Debate"—we ran an online poll asking readers if selling ads on magazine covers is a violation of editorial ethics, or a legitimate business opportunity. The results were surprisingly close, and hinted that the overall industry position on cover ads is softening:
51 percent of respondents believe any form of cover advertisement is a violation of editorial ethics. However, 46 percent think cover ads are a legitimate business opportunity,
One of the magazines that is beginning to explore this opportunity openly is Scholastic Parent & Child, which got some blowback from the American Society of Magazine Editors over its use of an ad on a recent cover.
"That's the only 'Full Monty' execution we've seen that just went ahead and put an ad—two, actually—right on the cover," ASME president and Runner's World editor David Willey told FOLIO:. "There was no attempt to make the ads feel like they were part of an editorial execution or idea at all. The other magazines that have tried new things have all taken different approaches, but none of them were that blatant."
Well, Willey won't be pleased with Parent & Child's June issue, which features a cover strip ad for Sunny D that "wraps" to a back cover ad.
Scholastic, though, is unapologetic. "In June, we actually had three advertisers compete for the ad space," publisher Risa Crandall said. "In print, you don't tend to sell out, so we have found that this kind of advertising is getting clients to act more quickly. Last year we finished up 28 percent in ad pages; right now, we are tracking 14 percent ahead of that. We decided to go the route of cover ads based on innovation and creativity—not as a response to the economy."
Meet the Author
---