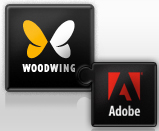 In an expanded effort to support all of publishers' app needs, Adobe's Digital Suite now includes Single Edition capability. The service is available for iPad app creation, and supports apps intended for one time-only publication.
Available for $395 on Adobe.com, the Single Edition is aimed at freelance designers and small businesses wishing to create an App Store offering. Once the app is published and available through the App Store, designers are unable to update content in-app.
More options for publisher purchase includes the expansion of the Professional Edition's availability in the Digital Suite, intended for profession/mid-market publishers and mid-size companies. Previously only available for annual subscription, publishers are now able to access the Suite on a monthly payment basis.
According to Lynly Schambers-Lenox, Adobe group product marketing manager, Single Edition for Android and RIM technology will be available shortly.
In other Adobe news, editorial workflow solution WoodWing is now partnering exclusively with the software provider. In this new partnership, WoodWing will integrate the Digital Publishing Suite into its Enterprise Publishing System. Accordingly, WoodWing's Content Station, an application that allows editor to create, manage and publish digital content, will abandon its current .ofip content format and convert to Adobe's .folio file.
WoodWing's set of digital magazine creation tools will also be available through a set of plug-ins in Adobe InDesign software. This includes slideshow creation options, etc.
Adobe's Digital Publishing Suite, along with its InDesign software, is used by publishers like National Geographic, Conde Nast and more.